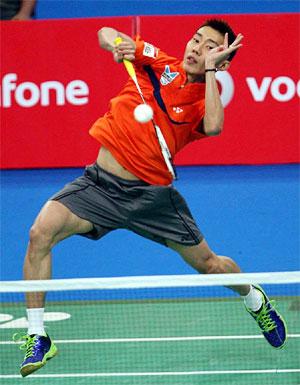 Spearheaded by Malaysian world No 1 Lee Chong Wei, Mumbai Masters registered a 4-1 victory over Delhi Smashers in the Indian Badminton League match at the NSCI courts, in Mumbai, on Tuesday night.
Lee, who joined Mumbai Masters after missing the team's first two away outings, eased his way past compatriot Daren Liew before All-England women's champion Tine Baun made it 2-0 for the host team.
Lee had skipped Mumbai's first two matches against Banga Beats and Pune Pistons and joined the team just before Tuesday's clash. But he showed his class as he raced to a 21-12, 21-16 victory over world No 17 Liew Darren in 35 minutes to help the hosts take a 1-0 lead.
Tine Baun, who retired from international badminton after winning her third All England title in March and is ranked 11th in the BWF rankings, crushed former National champion Arundhati Pantawane, ranked 54th, 21-11, 21-13 in a little over 60 minutes to extend Mumbai's lead.
But Delhi cut the lead to 2-1 when their top Malaysian men's doubles combination of Kon Kiet Keat and Tan Boon Hoeng, ranked world No 4, rallied after dropping the opening game to defeat the young Indian duo of B Sumeet Reddy and Manu Attri 14-21, 21-15, 11-7 in the men's doubles match.
However, Mumbai's gamble of fielding European champion Marc Zweibler instead of the successful Russian Vladimir Ivanov came good as the German rallied after dropping the opening game against young B Sai Praneeth to eke out a thrilling 18-21, 2-10, 11-9 win in the second men's singles to give the hosts the winning lead with the mixed doubles match to follow.
Having sewed up the tie, Lee and Baun combined forces to clinch the mixed doubles by overcoming Delhi's pair of V Diju and Prajakta Sawant 21-18, 15-21, 11-5.
This is Mumbai's second victory in the league, having earlier beaten Banga Beats and losing to state rivals Pune Pistons.
The home team's points tally has risen to 11, while Delhi, who suffered their second loss, have 7.
Image: Lee Chong Wei
Photograph: Indian Badminton League/ Facebook