The Indian women's football team failed to overturn a two-goal deficit and went down 0-2 to Myanmar in their first group D encounter of the AFC Women's Asian Cup (Qualifiers) in Ramallah.
The Myanmar eves rode on their two first-half goals from Naw Phaw and Khin Moe Wai in the 5th and 26th minute, respectively to beat India comfortably at the Faisal Al Husseini stadium on Tuesday.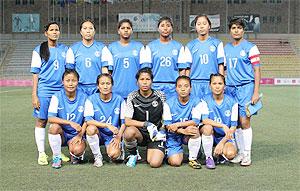 Myanmar came close to scoring another goal in the 27th minute but Yee Yee Oo's effort hit the woodwork.
The Indian women's team could not recover from the early shock in the first half but they put up a valiant effort in the second half, playing an attacking game. However, they failed to convert opportunities into goals.
Myanmar forward, Naw Phaw receiving a cross from winger Khin Moe Wai, and placed her shot into the roof of the net to give her team early lead.
India had a golden opportunity to equalise but striker Bala Devi failed to capitalise on a pass from Oinam Bembem Devi at the top of the box in the 22nd minute.
Just when India seemed to have found their rhythm, Myanmar doubled the lead on the counter.
Moe Wai converted Than Than Htwe's spadework from close range and it was 2-0 at halftime.
The Indian team shrugged off the burr under their saddle post the breather and looked more at ease on the artificial turf. They attacked with renewed vigour.
In the opening exchanges in the second half, Myanmar, playing a high line in the first half, were forced to drop deep as the likes of Bembem Devi and Kamala Devi made frequent inroads into the final third.
Myanmar attacked in phases, mostly attempting to increase the cushion from set pieces. They were literally defending in numbers switching from the initial 4-4-2 formation to a defensive 5-4-1.
India will next play Chinese Taipei on Thursday.
In the first match of the tournament, Chinese Taipei blanked hosts Palestine 6-0 in the Group's curtain-raiser.
Midfielder Lin Ya Han notched up a hat-trick, while Lin Kai Lin, Lai Li Chin and and Yu Hsiu Chin netted one each.