The wet surface at the Jawaharlal Nehru stadium had the final say as defending champions India and Nepal played out a goalless draw in the Nehru Cup football tournament in New Delhi.
Needing a win to seal a place in the final for the third time in a row, India showed intent but could never find the much-needed goal against a side that fought bravely after coming off two reverses.
India, who play their last game against Cameroon on Friday, still have a chance to make the final, but will have to wait and see how Wednesday's match between Maldives and Cameroon pan out.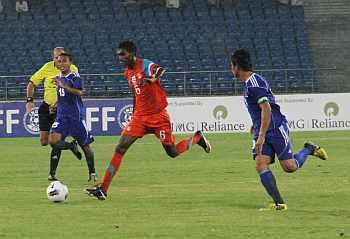 While a win for Maldives will leave India with no option but to beat Cameroon in their next match, a positive result for the African nation will be more beneficial to the hosts.
India had a serious chance of breaking the deadlock towards the end. But it was due to goalkeeper Kiran Chemjong's brilliant effort against Robin Singh's power-packed volley that ensured Nepal shared the honours.
The Nepali custodian was a busy man in the second half as a desperate India looked for that elusive goal.
A minute before Robin's attempt, Franics Fernandes released the ball for Jewel Raja, who dribbled past Sagar Thapa but the India's right-footed attempt was palmed away by the keeper for a corner.
Life was made difficult by the continuous downpour of rain which left the surface wet. Even as the ball stopped, not just on a few occasions, but through the first 45 minutes, the match continued. Adding to the frustration was the drizzle.
Not only were the players frustrated, the sizeable turnout too, went home disappointed.
While matches in the last two editions, in 2007 and 2009, were not really affected by elements, a few rain-marred games in the ongoing tournament could just force the All Indian Football Federation (AIFF) to think about other options.
After the rain-affected tournament opener against Syria who were beaten 1-2, the 'new India', as they prefer to call it, gave glimpses of their ability in the 3-0 decimation of Maldives.
This was never meant to be one of those humdingers, and what India needed was a win to seal a place in the final. But thanks to the stalemate, they are not just there yet.
Even as the wet ground made it difficult for the hosts to play the passing game, Nepal, surprisingly, managed to spend time in the Indian half. Surprising, considering their results in the last two games – while the Himalayan nation was walloped 0-5 by Cameroon, Maldives beat them 2-1.