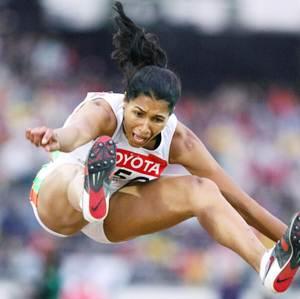 India's long jump ace Anju Bobby George has officially become the gold medal winner of the World Athletics Final, held at Monte Carlo in 2005, after the International Association of Athletics Federation ratified the result of event at the meet.
The IAAF upgraded Anju to first place in the IAAF World Athletics Final long jump after the disqualification of Russia's Tatyana Kotova, who finished ahead of the Indian in the meet, but later failed to clear a dope test.
Anju's 6.75 metres leap had landed her the silver then, behind the Russian's 6.83 metres' effort.
Confirming the ratified result, Athletics Federation of India president Adille Sumariwalla lauded Anju on her historic achievement.
"We are extremely proud that Anju has been awarded the gold medal in the prestigious World Athletics Final. This is a historic occasion for the entire country and the Indian athletics fraternity," said Sumariwalla.
Meanwhile, Anju was overwhelmed on winning the World Athletics Final gold medal and expressed gratitude to Indian athletics fans, her coach and the AFI for their support.
"It's a great privilege for Indian athletics and I am humbled with the gold medal. As an Indian athlete, I'm indebted to my fans, coaches and the Athletic Federation of India for all their support," said Anju.
With this achievement, Anju becomes the first Indian athlete to win a gold medal in World Athletics Final.
The Indian star had previously won a bronze medal in the 2003 World Championships, and has a gold in the 2002 Asian Games at Busan and 2005 Asian Championships in Incheon and a bronze in the 2002 Commonwealth Games at Manchester.
Image: Anju Bobby George
Photograph: Getty Images