Beijing Olympic bronze-medallist Vijender Singh said given a chance he would not mind stepping in clean to up the mess that the Indian Amateur Boxing Federation finds itself in following the ban imposed by the International Boxing Association (AIBA).
"If I get a chance, I would want to be involved with the Indian Boxing Federation and help clean up the mess. I would like to get the ban removed to make it possible for the Indian boxers to represent the country in international events," Vijender said.
Vijender stressed on the importance of sportspersons getting involved in decision-making.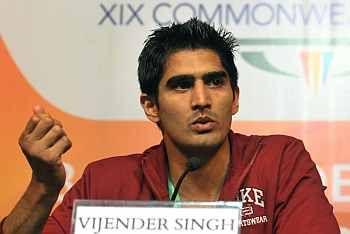 "IOA, federations or the Sports Ministry should involve different sportspersons in decision making," he said.
The provisional suspension on the IABF has left Vijender frustrated and he hoped things get sorted out soon.
"I have been training and it is frustrating when you think about the goal and the uncertainty. I hope things get sorted out soon. I will probably go to Cuba for training in June or July," he said.