Mohun Bagan have requested the state government to put up a three-tier security arrangement for their return leg of the Kolkata derby against East Bengal on February 9, to avoid a December 9 like incident.
- Photos: 40 injured as Mohun Bagan-East Bengal derby called off
For the first time ever, food stalls will be set up at various points of the Yuba Bharati Krirangan for the spectators and the fans will be provided water in pouches instead of bottles, Mohun Bagan officials on Wednesday.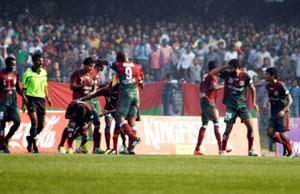 "We have requested for a three tier security arrangement to avoid any untoward incident. There will be three food stalls and the gates will be open by 12 noon. Water will be provided in pouches not in bottles so as to avoid the chance of it being used as a missle," he added.
All praise for the government, Mitra said, "We have had discussions with the sports minister, Madan Mitra, who has provided all the assistance."
Mohun Bagan's recce team, meanwhile, has identified nine vulnerable points at the stadium which may be subject to trespassing.
"We will be deploying two private security men along with a state police official," he added.
Meanwhile, state Housing and Youth Affairs minister Arup Biswas and Saibal Hazra were today unanimously elected vice-presidents of the club.
The first leg of the I-League derby had come to an abrupt end after Mohun Bagan's Syed Rahim Nabi got injured by a stone thrown apparently aimed at the referee who had redcarded Odafa Okolie.
Mohun Bagan had walked off the field after half-time leading to a three-year suspension which was later overturned by the AIFF.