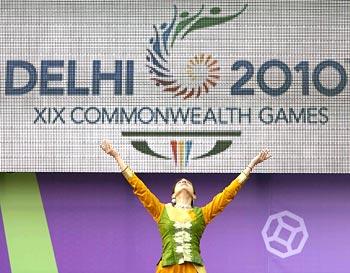 The 2010 Commonwealth Games in New Delhi tops the radar of terrorist organisations according to sources in India's Intelligence Bureau.
While Indian security agencies are working hard to ensure that the Games go on without a problem, a lot more still needs to be done.
Gerry O'Connell is the chief of the Lancashire constabulary, one of the United Kingdom's largest police forces. A police officer for 35 years, he was part of the British team that planned a counter-terrorist strategy against Irish Republican Army terrorists.
O'Connell was in New Delhi last week to attend the conference on Counter Terror India-2009. During an interaction with rediff.com's Vicky Nanjappa, he shared his views on what India must do to ensure that the security at the Commonwealth Games is fool-proof.
Intelligence inputs would suggest that the Games are likely to targeted by groups, big or small. Targetting such an event would give a terrorist organisation the kind of recognition they yearn for. Even smaller groups will try and attack this event so that they can get recognition and funds.
I have dealt with the IRA, but this threat that India faces is more grave. IRA cadres were not ready to die, but here the case is the opposite.
It is key to assess the risks and then plan out a security strategy. An operational blueprint must be prepared and the security worked around this. The most important factor is to know the enemy. There needs to be day to day assessment of the external and internal threats.
The security agencies should prepare a blueprint of the measures to be undertaken in New Delhi. They should ensure safe and secure venues apart from ensuring the following:
Safe and secure resilient events
Safe and secure transport
Safe, critical infrastructure
Secure the physical environment
Effective vetting control
The security agencies would do well to ensure that there is safe ticketing and protection of the key people including the athletes. India should also look for effective command, control, leadership and also seek international cooperation on this issue.
Scanning of all persons including the athletes has to start from the time the registration commences. There should be constant helicopter surveillance.
There is an absolute need for India to have a very clear command operation. An important feature to ensure fool-proof security is to share the burden. Departments should not be working by themselves on this issue.
There has to be cross government departmental interaction where security is concerned. A blame game will not help the cause. All departments should share the ownership of the risk factors involved in hosting these Games.
Photograph: Reuters