James Toney stopped Evander Holyfield in the ninth round of their heavyweight bout on Saturday, possibly signalling the end of the 40-year-old former undisputed world champion's career.
Toney had dominated the contest from start of the second round and was clearing leading on all three judges cards when the bout was stopped.
After being hurt several times, Holyfield was finally knocked down by the flurry of blows midway through the ninth round, prompting his trainer Don Turner to ask the referee to halt the fight.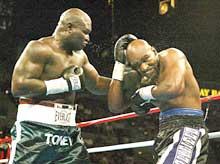 "I had to stop the fight because I didn't want to see my guy get hurt. I've seen four guys get killed in the ring and I didn't want to see another," Turner said.
Toney, 35, made a slow start and lost the first round but then took control of the fight, throwing far more punches and showing far more speed than the ex-champion.
"Holyfield is a great fighter and I have a lot of respect for him but I was hungry ... I'm sorry I had to do that to him," Toney, who is the International Boxing Federation cruiserweight champion, said immediately after the bout.
Holyfield, who will be 41 later this month, admitted that he had a decision to make about his future.
"Toney did beat me up. He out-hustled me ... I didn't get off with my punches like I wanted. I was a step behind," Holyfield said.
Holyfield, known as "The Real Deal" has a reputation as one of the ring's warriors and fought bravely to the end.
"A warrior is a person who does not quit. I did not quit in there," he said after the fight at the Mandalay Bay Resort and Casino.
Holyfield is a four-time former world heavyweight champion. He won the undisputed title almost 13 years ago when he defeated James "Buster" Douglas with a third round knockout but is perhaps best known for two brutal contests against Mike Tyson, both of which he won.
In the second bout, in June 1997, Tyson was disqualified after biting off part of Holyfield's ear.