Both P R Sreejesh and P T Rao did not have the best of outings in the inaugural Hockey India League and national hockey team captain Sardar Singh feels goalkeeping is an area of concern for the hosts ahead of the Hockey World League 2 to be held here from February 18-26.
Turning out for Dabur Mumbai Magicians in the just-concluded HIL, both Sreejesh and Rao were below-par under the bar as their franchise failed to progress to the semi-finals of the five-team event, managing just one win out of 12 games.
But Sardar is confident about the duo's reversal of form in the upcoming Hockey World League 2, which is a qualifying event for the 2014 FIH World Cup in Hague, The Netherlands.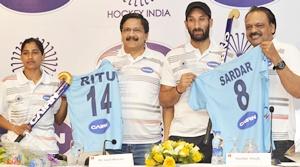 "Obviously, goalkeeping is a concern because Sreejesh and Rao did not have a very good HIL. But ups and downs are part and parcel of a player's life," he said in New Delhi on Friday.
"I feel Sreejesh is one of the best goalkeepers in the world. It was a matter of time he gets his form back. I feel it's just about regaining their self-confidence back as soon as possible," Sardar said on the sidelines of a progamme announcing energy company Cairn India's association with Indian hockey.
Lauding the HIL, Sardar said the franchise-based event has been a blessing in disguise for Indian hockey because in young players like Mandeep Singh and Malak Singh, the league has produced some future stars of the game.
Looking at the line-up of the men's competition, India will start as overwhelming favourites in the tournament, from where two teams will qualify for next stage i.e. Hockey World League Round 3 (semi-final league) to be held in the Netherlands and Malaysia between June 13 and July 7.
Apart from India, the other participating nations in the men's competition are China, Ireland, Bangladesh, Oman and Fiji. The Indian skipper, however, sounded cautious.
Meanwhile, seeded second behind Japan, the Indian women's team has a relatively difficult task at hand compared to its male counterparts.
But skipper Ritu Rani is upbeat about her team's chances in the women's event where Japan, Russia, Malaysia, Kazakhstan and Fiji are the other participating nations.
While the Indian men's team will open their campaign against minnows Fiji on February 18, the eves will face Kazakhstan the same day.