It seems the blame game has already begun, even before the Commonwealth games has started, where the federations and the Sports Ministry blaming each other for the delay in the completion of the stadiums.
On Saturday, vice-president of the Indian Olympic Association VK Malhotra, expressed deep shock over sports minister MS Gill's view, where he blamed the federations for the delay in the completion of the stadiums.
"Government responsible for Games mess. It is a shocking and unacceptable observation of Sports Minister Dr. M.S.Gill," Malhotra told rediff.com.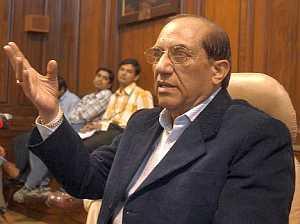 Accusing the union sports and urban ministries for the chaos, Malhotra, who is also the president of General Associations of National Sports Federation (GANSF) said, "The Federation were hardly consulted by the Government when it went for massive constructions.
"We are willing to co-operate with the Sports Ministry and other Government agencies for the successful conduct of the Games.
"For us the Games are matter of national pride. But it seems for Mr. Gill, it's a party affair," he declared.
He admitted that lot of works remains to be completed and the government instead of seeking co-operation from the federations, is trying to start a blame game.
Malhotra, who is also the president of Archery Association of India (AAI), felt that all the agencies involved in the construction were never really kept in the scheme of things.
"All the agencies involved in the construction of the infrastructure - DDA, PWD, CPWD belong to the government, while Urban Development Ministry along with Sports Ministry were monitoring the progress sports federations hardly figured in their scheme of things" he said.
"Who is responsible for creating mess in the city? The city is in the mess, CP and several other areas were dugged out for the benefit of the contractors and middle men. Are sports federations responsible for this chaos also," he questioned.