While the focus was on fancied names Ashok Kumar, Manav Jaini and Mukesh Kumar, Delhi's Karanjit Singh Sandhu stole the show, shooting a whirlwind seven under 63 on day one of the Crompton Greaves Open in Mumbai to establish a three-stroke lead on top of the leader board.
Ashok Kumar of Delhi, Pune's Dinesh Raghuvanshi and Sujjan Singh of Chandigarh are in tied second at four under 66.
Sandhu got off to a blazing start as he birdied the first, second and fourth. He sank a 12-footer on the second and produced two spectacular chip shots to set up birdies on the first and fourth. A missed chip-putt led to bogey on the fifth and he thus made the turn at two under.
Sandhu, who has posted two top-10s on the Aircel PGTI tour this season, gave a display of some magnificent hitting on the back nine as his tee shots landed within 10 feet on the three par 3s -- 10th, 13th and 17th. He converted all these birdie putts and went on to add two more birdies with a couple of excellent bunker shots on the 16th and 18th.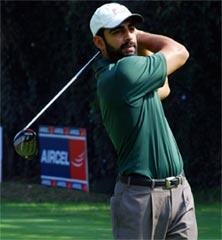 The Delhi-based golfer's first round score of 63 equalled the course record for a single round set by Gurbaaz Mann earlier this year.
"I got off to a solid start and was hitting it well through the day. The putts rolled in for me today. This is my lowest score at a professional event so it is the ideal start to the week," Karanjit said.
"I have always enjoyed playing on this course. One has to be patient on this course and being too aggressive does not help. The greens are in great shape. The birdie that stood out for me today came on the par-three 17th where I landed my tee shot within six feet of the pin. The 17th is not an easy hole and sinking a birdie there gave me a lot of confidence when I stood on the 18th tee."
Ashok Kumar, Dinesh Raghuvanshi and Sujjan Singh share second position at four under 66. Sujjan's round featured an eagle, six birdies and four bogeys. Ashok and Dinesh fired six birdies against two bogeys in their respective rounds.
As many as eight golfers, including Mandeo Singh Pathania, Vinod Kumar, Ajeetesh Sandhu, Digvijay Singh, Vivek Bhandari, Harendra Gupta, Akshay Butta and Rafick Ali Mollah share fifth place at three under 67.
Meanwhile, Jaini, on a roll of good form recently, who was tied third at the Indian Open, had to be content with a mediocre opening day's score of 72.
Top scores: Karanjit Singh Sandhu 63; Ashok Kumar, Dinesh Raghuvanshi, Sujjan Singh all 66, Mandeo Singh, Vinod Kumar, Ajeetesh Sandhu, Digvijay Singh, Vivek Bhandari, Harendra Gupta, Akshay Bhutta, Rafick Ali Mollah (all 67).