Saurav Ghosal and Joshna Chinappa on Friday entered the semi-finals of the Asian Individual Squash Championship in men's and women's events here with contrasting wins.
While Ghosal handed an easy 11-7, 11-7, 11-7 defeat on compatriot Vikram Malhotra, Chinappa held off Japan's Misaki Kobayashi, the number 7 seed, 11-7, 11-3, 9-11, 12-10 in 35 minutes to advance to the last-four stage.
Both Ghosal and Chinappa were seeded second in the men's and women's singles respectively.
Another Indian also booked a spot in the last four in women's event as Dipika Pallikal Karthik outplayed Liu Tsz Ling 11-3, 11-6, 11-6 in 33 minutes.
Pallikal, seeded fourth, was confidence personified against Ling, the fifth seed from Hong Kong. Not for a moment the Indian lost focus and the result was a quick victory.
She will meet the top-seed Annie Au in Saturday's semi-final.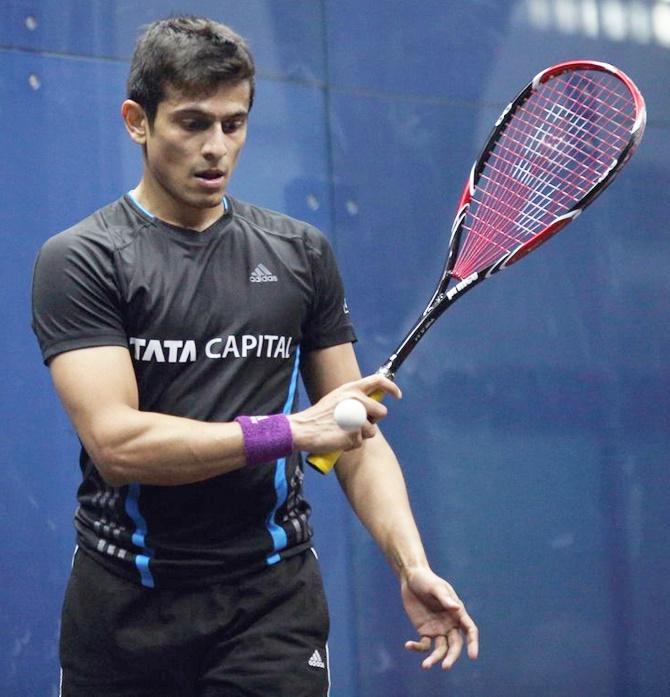 The experienced Ghosal, seeded second in the tournament and ranked 30th in the world, needed just 43 minutes to thrash the 10th-seeded Malhotra. Ghosal kept his rival on the run with an array of shots and dominated the proceedings.
He will take on Hong Kong's Leo Au, the fifth seed, for a place in Sunday's final.
Ghosal, who reached the last eight in the championship's previous edition in 2015, was too powerful for Malhotra, who has been doing well on the PSA Tour in recent times.
Earlier, Au caused a mild flutter by getting the better of fourth-seeded countryman Yip Tsz Fung in four games after losing the opener.
Au and Fung were locked in a battle of attrition in the first couple of games before the former pulled away to book a berth in the semi-finals.
Malaysian third-seed Mohd Nafiizwan overcame a mid-match slump to beat compatriot Yuen Chee Wern (7th seed) 11-9, 11-6, 6-11, 11-4 to move into the last four after a 70-minute battle.
Women's top-seed Annie Au of Hong Kong also reached the semi-finals as she hardly broke a sweat in her facile 11-5, 11 -6, 11-3 win against Japanese rival Satomi Watanabe in just 28 minutes.
In the last match of the day, top-seed Max Lee of Hong Kong dashed the hopes of India's Harinderpal Sandhu 11-8, 11- 9, 11-8 to march into the men's semi-finals.
Harinder, who had upset sixth-seed Abdul Al-Tamimi of Qatar in the pre-quarterfinals on Tuesday, was no match for the number 1 seed.
Results: Men's singles (Quarter-finals): Mohd Nafiizwan (3) (Malaysia) beat Yuen Chee Wern (7) (Malaysia) 11-9, 11-6, 6-11, 16-14; Leo Au (5) (Hong Kong) beat Yip Tsz Fung (4) (Hong Kong) 10-12, 12-10, 11-6, 11-4; Saurav Ghosal (2) (India) beat Vikram Malhotra (10) (India) 11-7, 11-7, 11-7.
Women's singles (Quarter-finals): Tong Tsz Wing (6) (Hong Kong) beat Joey Chan (3) 6-11, 11-9, 11-6, 11-7; Annie Au (1) (Hong Kong) beat Satomi Watanabe (16) (Japan) 11-5, 11-6, 11- 3; Joshna Chinappa (2) (India) beat Misaki Kobayashi (7) (Japan) 11-7, 11-3, 9-11, 12-10.