Nine years after making his Asian Tour debut here in Yangon, Indian golfer Rahil Gangjee on Friday celebrated that memory with a superb six-under 66 that carried him up to tied 14th at the midway stage of the Zaykabar Myanmar Open golf tournament in Yangon, Myanmar.
Gangjee, who shot 71 in first round, is now seven-under 137 and is six shots behind the leader, Kiradech Aphibarnrat (67), who is now 13-under after rounds of 64 and 67.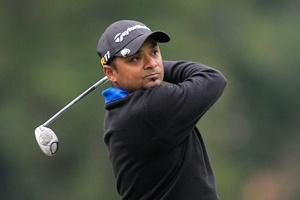 Along with Gangjee, young Ajeetesh Sandhu (70-68) also made the cut at tied 20th, while three other Indians, Himmat Rai (70-71), Sujjan Singh (71-70) and Shankar Das (72-69) just managed to hang on for weekend action at tied 53rd as they were on the cutline at three-under. However, Vinod Kumar (71-78) and Chiragh Kumar missed the cut.
Gangjee had a bogeyfree round with six birdies, five of which came on a productive back nine. He closed with two birdies on 17th and 18th and looked pleased.
Sandhu had five birdies against one bogey on ninth, while Shankar Das had an eagle in his round of 68.
Gangjee said, "I'm very delighted with how I played and making amends for last year because I couldn't read the greens here. These greens are pretty similar to the grass I played on in America. I made a lot of birdies to bounce back. I made a bogey on the last yesterday and was very upset with that."
He added, "I've played well in Myanmar before. It was in 2004 and it was my first Asian Tour event. I finished tied 19th and I was pretty pleased with myself. It kind of got me into a lot of events and two events later I won my first event in my rookie year. This is my 10th Asian Tour season. Time has really flown by especially when I was in America. I don't know where it went. I was just travelling and playing and it was on automatic mode. I just went on from week to week."
When reminded of his Rookie Year, which was also the first year of Asian Tour as the Players' Tour, he added, "One of my best memories was winning in my rookie year on the Asian Tour at the 2004 Volkswagen Masters in China. I really didn't know anybody out here and I didn't know the way the game was played here. I was lucky enough to win and some people said I was good enough to win."
Photograph: Chris Trotman/Getty Images