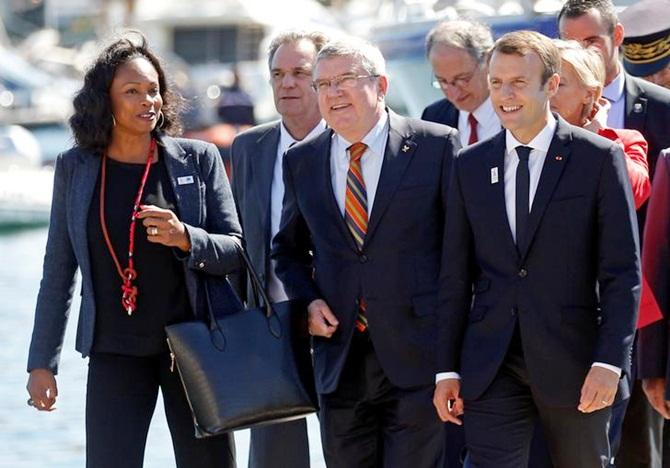 IMAGE: French President Emmanuel Macron (right), IOC President Thomas Bach (centre) and French Minister for Sports Laura Flessel (left) in Marseille, France, after Paris was named host of the 2024 Summer Olympics. Photograph: Jean-Paul Pelissier/Reuters
France's Winter Olympics team will not travel to the 2018 Games in South Korea if its security cannot be guaranteed, France's sports minister said on Thursday, the first major doubts by a participating nation about growing North Korean tensions.
The games organiser said on Friday that it is closely monitoring the current geopolitical situation with the South Korean government, adding that safety is the top priority.
Tensions in the region have escalated since North Korea conducted its sixth and largest nuclear test on September 3, prompting global condemnation.
North Korea's leader Kim Jong Un said on Friday the North will consider the "highest level of hard-line countermeasure in history" against the United States in response to US President Donald Trump's threat to destroy the North.
France's Sports Minister Laura Flessel told RTL radio that if the crisis deepened and "our security cannot be assured, the French Olympics team will stay at home."
But she added: "We're not there yet."
Participants in the Games - the first Winter Olympics hosted by an Asian nation outside Japan - had not previously raised safety concerns publicly.
The games are scheduled for February 9-25 next year in Pyeongchang, just 80 km (50 miles) from the demilitarised zone between North and South Korea, the world's most heavily armed border.
The two countries remain technically at war after their 1950-53 conflict ended with a truce and not a peace treaty.