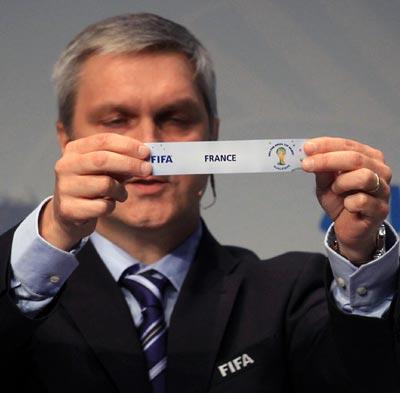 Former world champions France will play Ukraine for a place in the World Cup finals in Brazil next year with the advantage of the second leg at home following the draw for the European playoffs on Monday.

Portugal will meet Sweden, featuring a matchup between two of the world's most exciting players - Cristiano Ronaldo and Zlatan Ibrahimovic - Greece will take on Romania and Iceland, who have never played at the finals of a major tournament, are up against Croatia.

The first legs will be played on November 15 and the return on November19.

The last meeting between France and Ukraine ended in a 2-0 win for France after thunder and lightning caused their Euro 2012 match in Donetsk to be suspended last year.

France, who were unseeded in the draw and at 21st are world ranked one place below Ukraine, boast an unbeaten record against the East Europeans with four wins and three games drawn.

"Ukraine are a team who do not concede a lot of goals, but it's good we are playing the second leg at home," said France coach Didier Deschamps who was relieved to have avoided Portugal in the draw.

France finished second behind world champions Spain in European Group I while Ukraine were runners-up to England in Group H.

Portugal, who finished second behind Russia in Group F and were the highest ranked team in the draw at 14 on FIFA's list, take on Sweden at the 66,000 capacity Luz stadium in Lisbon in the first leg.

The two have met 15 times with Sweden winning six and Portugal three, but Sweden have not beaten Portugal in seven matches since 1984. They met twice in the qualifiers for the 2010 World Cup and drew 0-0 on both occasions.

"Sweden are a team which will give us two very complicated matches, two evenly balanced ones. Although they have one of the best forwards in the world, Sweden are strong collectively," Portugal coach Paulo Bento said in comments emailed to Reuters.

Greece, who finished behind Bosnia on goal difference in Group G, first met Romania in 1930 and will be wary of a team who beat them 3-1 in a friendly the last time they met in late 2011.

Iceland are the lowest ranked team in the playoffs at 46.

Their only previous meetings with Croatia came in 2005 when Croatia won at home and 3-1 away in the qualifying stages for the 2006 World Cup in Germany.
Image: Gordon Savic, head of FIFA World Cup Qualifiers, shows the name of France during the World Cup 2014 European Zone Play-Off Match Draw at the FIFA headquarter on October 21, 2013 in Zurich, Switzerland.

Photograph: Marc Eich/Getty Images