Paul di Resta suffered his third retirement in a row and Adrian Sutil sneaked into the top-10 in the last lap as Sahara Force India added one point to their tally from the exciting Singapore Grand Prix, where fortunes swung like a pendulum for the Indian F1 team.
A bizarre accident involving Daniel Ricciardo had hurtled Di Resta into the points contention and he was driving as high as sixth in lap 34 but with just five laps from the finish, the Scot hit the nose of his car to the barriers at turn seven, ending his race.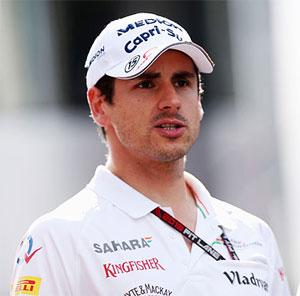 It was Di Resta's fourth retirement of this season.
Sutil was running 11th till the penutimate lap but Mark Webber's Red Bull gave in the last lap following an engine issue, which enabled Sutil to take the last available point from the only night race on F1 calender.
Force India were lucky to have scored a point considering their poor qualifying but the gap with McLaren has increased to 14 as Jenson Button and Sergio Perez added 10 points to the British outfit tally with their seventh and eight place finishes respectively.
Red Bull's Sebastian Vettel took the chequered flag ahead of Ferrari's Fernando Alonso and Lotus' Kimi Raikkonen who came into the race with a back problem and started as back as 13th on the grid.
Following them were Nico Rosberg and Lewis Hamilton in the two Mercedes. Felipe Mass was sixth in second Ferrari. Nico Hulkenberg completed the top-10 line up in ninth.
Ricciardo suffered a crash in lap 25, forcing a safety car on the track for at least five laps. Di Resta benefited as he moved to seventh of Massa, Button and Raikkonnen.
Romain Grosjean, was ahead of Di Resta had to pit in lap 34 due to a air consumption problem, which further pushed Di Resta sixth. He was between the two Ferrari's. Di Resta went to pit lane in lap 43 and rejoined 11th ahead of Massa, who pitted at the same time.
The Scot made a move on Gutierrez and past him in lap 50 to get into top-10 but that disaster was in store for him.
Sutil was pleased that the team had something to cheer with his one-point finish.
"It was a tough race and exhausting in the end. So it feels great to come away with a point and it's a small motivation for the whole team," he said.
Sutil also felt that he could have gained a place or so if tyres had enough rubber.
"In the closing laps of the race I was catching the train of cars in front of me -- Perez, Button and Hulkenberg. I thought I had a chance to get ahead of at least one of them, but as soon as I reached the back of the train my tyres went off. In fact, we were all struggling with tyres and I couldn't attack anymore because it felt like driving on ice. So I'm happy to take the point and it's well deserved by the whole team," he said.
Paul Di Resta said he has no idea how the accident happened.
"It's such a shame to come away with nothing to show from a race where we had put ourselves in a position to score some valuable points... I'm still not sure what happened, but I took the corner the same way as I had done the previous lap and the car went straight on and wouldn't stop. The team is investigating what happened," he said.