Sebastian Vettel and Mark Webber could both be accused of losing their grip on Friday after the Red Bull duo launched scathing attacks on what they perceive as tyre wear becoming too dominant a factor in Formula One.
The pair took their customary positions near the front of the pack during the first free practice sessions for the Malaysian Grand Prix but rather than waxing lyrically over a job well done, the drivers took pot shots at this year's Pirellis.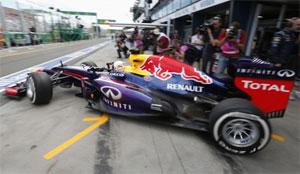 "The whole category is geared around tyres at the moment," Webber fumed despite topping the timesheets in the morning session ahead of Kimi Raikkonen's Lotus.
"Everything is around tyres. Tyres, tyres, tyre, tyres, tyres," the Australian added, while noting the wet track following a downpour in the second session was "the only conditions the slicks work in".
The Red Bulls locked up the front row in last week's season-opener in Melbourne but their one-lap speed was negated by tyre degradation in long runs as Raikkonen took full advantage to romp to victory.
Vettel dropped from pole to third at Albert Park and while the German clocked the second fastest time of the day in Sepang on Friday behind Raikkonen, the triple world champion was less than enthused by his own battle with the Pirellis.
"It looked pretty OK but it was quite a mess if you look at how long the tyres lasted," said Vettel, who complained over his team radio that the car was vibrating badly after 16 laps on the hard tyres in the morning.
"Today, tyre wear was pretty severe for everyone, so obviously you drive way under the potential of the car.
"I hope we have enough tyres to survive the race and it is not a lot of fun and that is how it is."
Photograph: Mark Horsburgh/Reuters