First no fuel in qualifying, then without a wheel in the race, Mark Webber ended a dismal Chinese Grand Prix weekend with his Red Bull rolling into retirement while a rear tyre bounced down the track on Sunday.
-Alonso wins Chinese Grand Prix for Ferrari
Starting from the pitlane after being sent to the back of the grid because Red Bull failed to put enough fuel in his car for Saturday's qualifying, the Australian lasted just 18 of the 56 laps.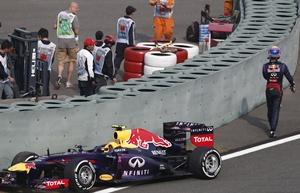 In that short time, he pitted twice and broke the front wing in a collision with the Red Bull-owned Toro Rosso of Frenchman Jean-Eric Vergne.
The afternoon was in stark contrast to the previous Malaysian Grand Prix, where he led until world champion team mate Sebastian Vettel ignored instructions from the pit wall not to overtake and denied him victory.
The feud between the team mates was the talk of the Shanghai paddock in the run-up to the race but they never came close to racing each other, let alone being in a position for Webber to exact any revenge.
The nearest it came to any drama, in a race dictated by tyre strategy, was when Vettel almost hit the loose right rear wheel as he rounded the turn 14 hairpin and found it bouncing and rolling in front of him.
Photograph: Aly Song/Reuters