Michael Schumacher [ Images ] crashed out of Japanese Grand Prix [ Images ] practice on Friday, a day after announcing his retirement, while Australian Mark Webber [ Images ] set the pace for Red Bull.
-Schumacher may be the greatest, but not most popular
Schumacher, a seven times champion and winner six times at Suzuka, went wide into the Spoon corner and lost control with the car slewing sideways into the tyre wall.
-Schumacher to retire at the end of the year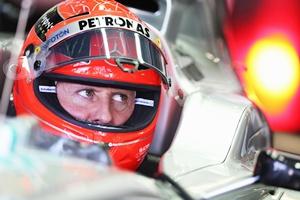 The 43-year-old German removed the steering wheel, extricated himself from the cockpit, patted a marshal on the back and helped tidy up some debris before walking away. He had been fifth fastest in the morning.
"I had to go to the medical centre...but I'm 100 percent okay," said Schumacher. "I think I was already concentrating on too much on the corner ahead of me and therefore had a wheel on the dirt and went off."
Force India's [ Images ] Paul Di Resta had earlier gone off at the same place, a slip that left him without a timed lap in the afternoon session. His team mate Nico Hulkenberg was fourth fastest.
Webber's best lap of one minute 32.493 seconds was the quickest of the day after McLaren's [ Images ] Jenson Button [ Images ] and Lewis Hamilton [ Images ] had led the opening session at one of the classic drivers' tracks.
Button, last year's race winner in Japan [ Images ] but with a five-place grid penalty for Sunday's race after a gearbox change, set a time of 1:34.507 on a sunny morning at the Honda-owned figure of eight circuit.
McLaren will be chasing a fifth successive pole position on Saturday, the team's best run of qualifying form since 1999 when Finland's Mika Hakkinen chalked up five in a row, but Webber showed championship leaders Red Bull would be hard to beat.
The Australian was third fastest in the morning, a position filled by team mate and double world champion Sebastian Vettel [ Images ] in the afternoon.
"It was a smooth one for us today and we completed all the runs we wanted to," said Webber. "We have areas where we can improve, mostly with the balance."
Vettel, who clinched his second title at Suzuka last year, has won two of the last three Japanese Grands Prix after starting all of them from pole.
Button was seventh after lunch with Hamilton second.
Ferrari's [ Images ] championship leader Fernando Alonso [ Images ], who is 29 points clear of Vettel, was 11th and fifth respectively.
The Spaniard has been a model of consistency, however, and Friday practice times count for little.
"This was a reasonably good day," he said.
"Overall the feeling is good and I don't think the high temperatures can constitute a problem for the tyres."
Kimi Raikkonen [ Images ], the 2007 champion, was 13th and 14th in a Lotus with an updated front wing but had to pit with the team warning him about a possible KERS problem that rendered the car unsafe.
He stepped out gingerly in the pits before gloved mechanics removed the car's battery. The Finn is third overall despite not having won a race yet this year.
Germany's [ Images ] Nico Rosberg [ Images ], who will have Hamilton joining him at Mercedes [ Images ] next year, slowed and parked up at the side of the track two minutes from the end between turns three and four in the morning.
The team said it was due to an oil pressure problem and the engine shut down as a precaution. With a different engine, he was 11th in the afternoon.
Local favourite Kamui Kobayashi was sixth and 13th fastest for Sauber.
Vitaly Petrov's Caterham shed its rear wing at speed in the second session, leaving the Russian shaken and relieved to step out unscathed.
Photograph: Mark Thompson/Getty Images