Mexican Sergio Perez cheerfully owned up to misleading the media on Thursday over talks that led to him securing a race seat at McLaren next season.
The 22-year-old Sauber driver added that glamour team Ferrari, with whom he had also been linked, had never been an option.
After denying at the previous race in Singapore that there had been any approaches from top teams, Perez recognised at the Japanese Grand Prix that his words had not been entirely accurate.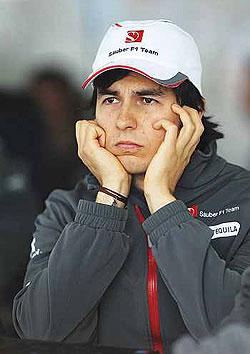 "There had been some talks before but I didn't want to give too much information about my opportunities, my options," he said.
"If I say at that time 'yes', then I will be full of questions...I wanted to keep it in low profile, focusing always on my team, giving my 100 percent to my team."
McLaren announced last week, days after Singapore, that Perez would be joining them next season as replacement for the departing 2008 world champion Lewis Hamilton who will be moving to Mercedes.
The Mexican is a member of the Ferrari young driver academy and had been linked to that team by the media as a possible replacement for Brazilian Felipe Massa.
However Ferrari president Luca di Montezemolo had repeatedly said that he did not think Perez was ready to race for the Maranello team.
"We were talking to them but it was never an option," said Perez. "I've been talking with them because I was part of the academy.
"It was difficult for them, Ferrari, to make that decision. I think they are happy with Felipe. He's a very good driver, a proven driver as well. I'm not a proven driver. I'm not a guarantee as Felipe is so probably that is why I was never an option for them."
Perez has, however, been on the F1 podium three times this season whereas Massa has not finished in the top three since 2010.
With rumours still swirling that Red Bull's double world champion Sebastian Vettel could switch to Ferrari in 2014 as teammate to Fernando Alonso, it could also be that the team were not prepared to offer more than a one-year deal.
Sitting in a news conference between Hamilton and Jenson Button, his future McLaren team mate, Perez realised that he was stepping into big shoes. He was also looking forward to working with 2009 champion Button and fighting for victories from the outset.
"I think with McLaren there is no other option," said Perez. "You have to win every race, you have a car that you can win every race (with). It's a guarantee. McLaren is always a guarantee."
Hamilton, who has no such guarantees with Mercedes even if he expects them to challenge for the top, agreed that Perez would have a winning car.
"Trust me, it will be a good car next year as well, I know," said the 2008 champion. "I know exactly what's going on next year with your car."