Doctors working to bring out Formula One legend Michael Schumacher from his induced coma are reportedly hoping to see eye movements from the German as they enter the third week of their 'waking up' process.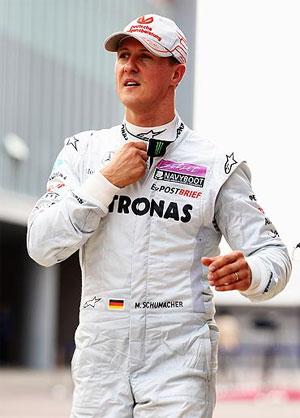 The seven-time world champion has been in the coma since smashing his head against a hidden rock during a low-speed ski-run in the French Alps just after Christmas.
According to the Mirror, surgeons at the University of Grenoble Hospital, who have been bringing the retired racer out of the coma by slowly lowering the amount of drugs sedating him, are now anticipating eye movements and a sense that he comprehends his environment.
According to a neurosurgery expert, the process usually takes between two and four weeks, adding that the second step is more complex and longer as the patient slowly begins to recognise his environment and reacts accordingly.
Stating that the phase is different for every patient with different injuries, the expert further said that in an ideal case, the patient attains a minimal awareness and then completely recovers, adding that if this is unsuccessful, then the patient is said to be in a ''waking coma'' in which he opens his eyes but is unaware of his environment.
The doctor further said that the fact that Schumacher has still not regained full consciousness is in proportion to the severity of the trauma, adding that as a drug-induced coma protects the nerve cells, recovery goes back a step if the cells are threatened in any way.
Schumacher's former racing teammate Felipe Massa said he was certain he detected a mouth movement when he visited Schumacher, the report added.
Image: Michael Schumacher
Photograph: Getty Images