Formula One world champion Sebastian Vettel [ Images ] took pole position for the Monaco Grand Prix [ Images ] on Saturday after a qualifying session overshadowed by a serious accident involving Mexican Sergio Perez.
The pole was the 20th of Vettel's F1 career, his fifth of the season, first in Monaco and Red Bull's sixth in six races this year.
McLaren's [ Images ] Jenson Button [ Images ], a winner in Monaco in 2009, will start alongside the 23-year-old German on the front row with Red Bull's Australian Mark Webber [ Images ] third and Ferrari's [ Images ] Fernando Alonso [ Images ] fourth.
The third and final phase of the session was red-flagged with two minutes and 26 seconds remaining when Perez smashed into the barriers at the tunnel exit.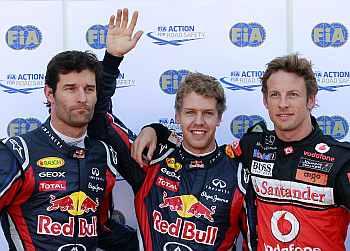 The 21-year-old was attended to by the emergency medical team in his wrecked car, while marshals shielded the scene with a large sheet. He was then extracted and taken away in an ambulance.
"The most important thing was to hear that Sergio is okay," said Vettel.
"He's conscious. We are all thinking of him and hopefully he can start the race tomorrow.
"There was a bit of a shadow over qualifying when you see a colleague crash and not jumping out of the car, he added. "It is difficult to keep the focus and you don't feel 100 per cent well," he added.
The red flag came at the worst possible time for McLaren's Lewis Hamilton [ Images ], the 2008 world champion, who had yet to set a timed lap in the session.
When action did resume some 38 minutes later, after the barriers had been inspected and repaired, he was unable to do better then seventh place.
Perez's crash was almost a carbon copy of one suffered by Mercedes' [ Images ] Nico Rosberg [ Images ] in final practice, although the German fortunately avoided the final impact with the barrier and was able to return for qualifying.
He ended up eighth on the grid, with his team mate Michael Schumacher [ Images ] qualifying fifth.
Venezuelan rookie Pastor Maldonado lifted struggling Williams' spirits with ninth place for the former champions who have yet to score a point this season.
At the back, neither of the Hispania cars took part in qualifying, with Italian Vitantonio Liuzzi crashing heavily in final practice and Indian Narain Karthikeyan [ Images ] suffering a mechanical problem.