McLaren's Lewis Hamilton roared to victory in the Chinese Grand Prix on Sunday to deny Formula One world champion Sebastian Vettel a fifth win in a row.
Germany's Vettel finished runner-up and 5.1 seconds behind the Briton, who narrowly avoided starting from the pit lane due to a pre-race engine scare, while Vettel's Australian Red Bull team mate Mark Webber took third after starting 18th.
"That was amazing, thank you so much!" yelled Hamilton, whooping with delight after his first win since Belgium in August last year.
The 26-year-old, triumphant in Shanghai on his way to the title in 2008, was the first driver to win twice in China since the race made its debut on the calendar in 2004.
"The car just wouldn't start," he said of the pre-race problems that had his McLaren mechanics working feverishly to get him out of the garage and onto the grid with only seconds to spare.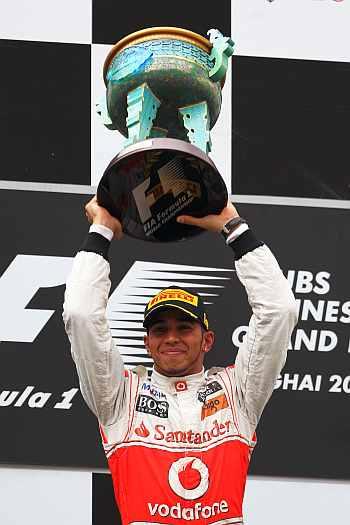 Vettel had won the first two races from pole position and looked the hot favourite again after grabbing the top slot in qualifying.
His decision to make two stops to Hamilton's three proved crucial, however, with the McLaren man making the most of his fresher tyres to reel in the Red Bull remorselessly over the closing laps.
"Congratulations to Lewis and Team McLaren," said Vettel.
"They did a very good job," he added.
Hamilton and teammate Jenson Button, who finished fourth after starting on the front row, had both screamed past Vettel at the start with the older Englishman leading the eventual winner for the first 13 laps.
The 2009 champion then blew his lead on his first pitstop with a rare mistake that would have embarrassed even a rookie, let alone one of the smoothest of drivers.
With Vettel following him in, moments after passing Hamilton, Button stopped at the Red Bull box before the German's mechanics frenziedly waved him on to make way for their man -- who then exited again before the flustered Briton.
Germany's Nico Rosberg also enjoyed a moment in the limelight, leading for Mercedes, but his hopes of a first career win after five seasons in Formula One faded as his team urged him to save fuel.
Rosberg finished fifth, ahead of Ferrari's Felipe Massa and Fernando Alonso in sixth and seventh.
Seven times world champion Michael Schumacher crossed the line in eighth place at the circuit where he had his last podium finish with Ferrari in 2006.