Sauber's Mexican rookie Sergio Perez looked certain to miss Sunday's showcase Monaco Grand Prix after crashing heavily in qualifying and being taken to hospital.
A medical update issued by Formula One's governing International Automobile Federation (FIA) said the 21-year-old was in the principality's Princesse Grace hospital and would stay in overnight.
Doctors said Perez was stable, conscious and talking but suffering from concussion. He had no fractures and his condition was described as "encouraging".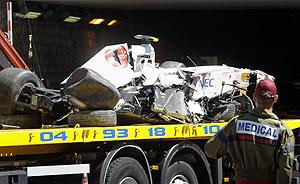 Saturday's qualifying had to be halted for more than half an hour after the crash at the tunnel exit in the third and final stage of the session.
Perez was attended to by the emergency medical team in his wrecked car, while marshals shielded the scene with a large sheet. He was then extracted and taken away in an ambulance.
Perez had qualified for the final top 10 shootout for the first time and was on his first quick lap of the session when his car suddenly skewed to the right and went nose first into the barriers at the tunnel exit, the fastest part of the circuit.
The car then careered uncontrollably down the track and into collapsible barriers, with the side of the car taking the full impact.
The crash was almost a carbon copy of one suffered by Mercedes' Nico Rosberg in final practice, although the German fortunately avoided the final impact with the barrier and was able to return for qualifying.
After the driver was taken away, Perez's wrecked car was lifted by crane on to a flatbed truck and taken back to the pits.