Force India managed to finish among points for the second successive race with Paul Di Resta signing off 10th in the Formula One Malaysian Grand Prix in Sepang on Sunday.
Di Resta's teammate Adrian Sutil finished 11th to miss out on points in the race that was won by Red Bull's Sebastian Vettel, who had claimed the top spot in the season-opening Australian Grand Prix as well.
Narain Karthikeyan, racing for Hispania, could not finish yet another race and was forced to retire after the 14th lap.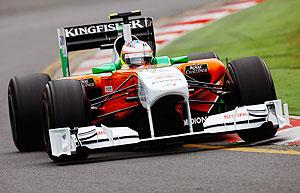 Force India is now joint fifth in the Constructors' Championship with four points on the table, and Di Resta joins Sutil on two Championship points.
Both drivers made a clean race start but Sutil had to return to the pits for a new nose on lap three after a coming together with Barrichello.
Di Resta battled with Nico Rosberg and the mid-fielders in the first stint and Michael Schumacher in the second.
He made up four places to bring home another point for the team on Sunday.
Sutil, on the other hand, made up lost ground due to the early nose change and was charging through the field for most of the race. He ran consistently in 12th position until a retirement by Renault's Vitaly Petrov led to Sutil crossing the line in a well deserved 11th place.
"I am quite happy I must say. The team did a good job with the strategy. I just could not hold off Michael at the end, he had fresher tyres and we had to stop a bit earlier for my third stop than predicted. But I also did not want to risk the championship point as well," said di Resta.
"I think the DRS showed some good racing today, so maybe we can be confident that in China our race pace may even be a little bit better. We were battling with cars that were a little bit quicker than us today, so overall I think we had a great race," he added.
Sutil rued the poor start to the proceedings for him.
"The first few laps were not brilliant as I lost my front wing touching (Rubens) Barrichello's rear tyre. Then we had a two-stop strategy, I went into the pits for the soft tyres, then another set of hard and another set of soft, and made them last well, which is positive.
"We could have been in for a much better finishing position, which is a shame. Overall it was a disappointing weekend for me, but the team did a great job with the pitstops so I'd like to thank them for that," he said.