Formula One stragglers Hispania have refused to rule out a protest against most other teams that could cast a cloud of uncertainty over Sunday's Spanish Grand Prix.
"I think some teams are running illegally, simple as that," team principal Colin Kolles said before Saturday's final practice session at the Circuit de Catalunya.
Asked whewther he might protest after the race, he replied: "Maybe, I don't know. I will see."
International Automobile Federation (FIA) race director Charlie Whiting told reporters on Friday that the governing body was concerned about engine mapping systems that give an aerodynamic advantage by ensuring a constant flow of exhaust gases through the rear of the car even when a driver lifts off the throttle.
The FIA had planned an immediate ban but then delayed that until a meeting of the technical working group after next weekend's Monaco Grand Prix.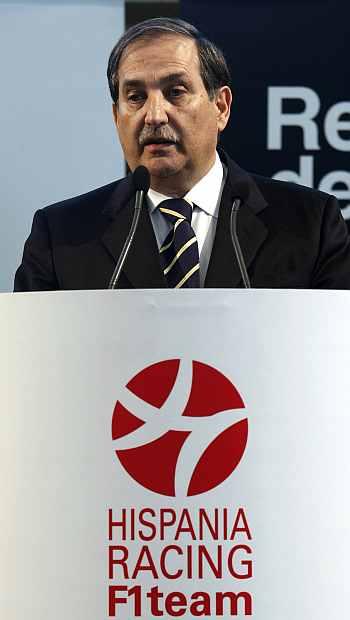 Whiting said what was originally seen as a "fairly benign feature" had turned into something that the FIA believed was being used illegally and wanted to suppress.
He warned all teams using the systems that they risked a protest after Sunday's race.
"I've told the teams we have decided to postpone this introduction but this (a protest) could happen," he said. "It's always a possibility."
Virgin Racing do not have such systems but team principal John Booth told Reuters they were highly unlikely to protest.
Booth suggested Kolles might be trying to deflect attention from what could be a difficult qualifying session for Hispania at their home race, with the tail-enders struggling to get on the grid.
However, Kolles, whose Cosworth-powered team have yet to score a point in Formula One, brushed that aside.
"I look really unhappy because we would have introduced our blown diffuser here," he said.
"It was planned to have a new exhaust system here, as the others have, and then this notification came out.
"On Monday I spoke to (technical head) Geoff (Willis), pushing to get the parts on the car, and he said 'No, we have to review this because there is this clarification from the FIA,'" said the team boss.
"So we basically went then in a different direction and two days later you change it, and I am not happy with this," he added.
Team Lotus, who were newcomers with Virgin and Hispania last year, plan to use the systems in Spain in a bid to close the gap and join the mid-grid battle.
"We have our new exhaust system on and we are using things that ... we think they're legal," technical head Mike Gascoyne said.
"I don't see how you could say it's illegal. We'll have to see. In the end if someone wants to protest, that's Formula One. We'll run the car to the optimum and we'll see what happens," he added.