Hosts Brazil suffered a huge blow when they lost leading forward Neymar for the rest of the World Cup through injury on Friday as they set up an epic-looking semi-final against Europe's biggest remaining team Germany.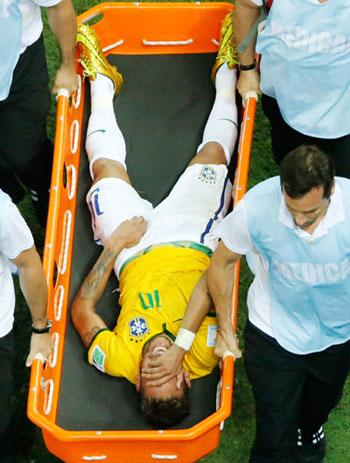 Brazil's poster-boy, in terrific form with four goals at the tournament, fractured a vertebra near the end of a 2-1 quarter-final win over Colombia and will be out for several weeks.
"It doesn't need surgery, but he'll need to immobilise it to recover," team doctor Rodrigo Lasmar said.
The news dampened the host nation's celebrations, given the team's reliance on the 22-year-old Barcelona forward's skill and talismanic presence. Many bookmakers now have Brazil and Germany as joint favourites at around 9/4.
"It's the worst possible news. Neymar is so important to us. It is going to be so difficult against Germany now," said shocked student Fabian Ruiz, 19, dressed in a yellow Brazil shirt and quaffing beer with friends in a Belo Horizonte street.
"They must do it for him. We all have to unite now."
Brazil face their biggest test of the tournament in the semi-final in Belo Horizonte on Tuesday against Germany, who defeated France in their quarter-final earlier on Friday.
The clash of styles and continents will excite fans around the world, but Neymar's absence is a big disappointment.
He writhed in pain and was taken off the pitch on a stretcher after receiving a knee in the back from Colombia defender Juan Camilo Zuniga. Fans gathered outside the hospital in Fortaleza shouting "Be strong" as Neymar was wheeled in.
"I hope it's nothing serious, let's pray to God. He is a great talent for Brazil and for the world," Zuniga said.
In a further worry for Brazil, they will be without captain Thiago Silva for the Germany game after a yellow card for a needless foul on goalkeeper David Ospina.
Image: Neymar of Brazil is stretchered off the pitch after a challenge during the quarter-final against Colombia at Castelao in Fortaleza.
Photo: Fabrizio Bensch - Pool/Getty Images