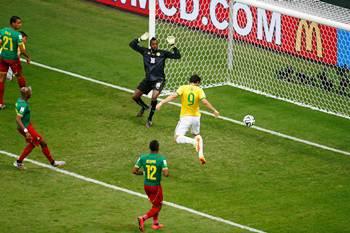 FIFA TV, which provides live World Cup images for the global television audience, displayed the wrong graphic which indicated Brazil's third goal in their 4-1 win over Cameroon was offside, it said on Tuesday.
Striker Fred headed home after 49 minutes but millions of viewers thought the assistant referee had made the wrong call because during the replay FIFA TV showed the offside line from the position of a Cameroon player and not the Brazil striker.
- PHOTOS: Neymar powers Brazil into World Cup last 16
Fred was behind the ball when the ball was crossed by David Luiz and the goal in the Group A match on Monday rightly stood.
Niclas Ericson, the Director of FIFA TV, acknowledged the error and promised that FIFA would do everything to ensure its production team did not make the same mistake again.
"We discussed with the production team why the line was placed wrongly," he told reporters.
"The production team have to make a very fast decision and mistakes can happen.
"The production director has total freedom to put in the line and correct it, but again we are reviewing this particular incident from yesterday to try to see how we can improve it."
Ericson said broadcasters around the world appreciated the graphics for their own audiences, but, asked if putting the graphic in the wrong place exposed the officials to even more pressure, he said in this case it was TV that was wrong not the match officials.
"Commentators and other broadcasters will make corrections and make comments about it and here in Brazil it was discussed for many, many minutes on air," he said.
"But it is clear the decision is taken by the referee and the TV support is just for the viewer and if it is not fully correct, then it can be fully corrected by the commentators."
Image: Brazil's Fred scores his team's third goal with a header past Charles Itandje of Cameroon
Photograph: Phil Walter/Getty Images