News of all that's transpired on and off the football field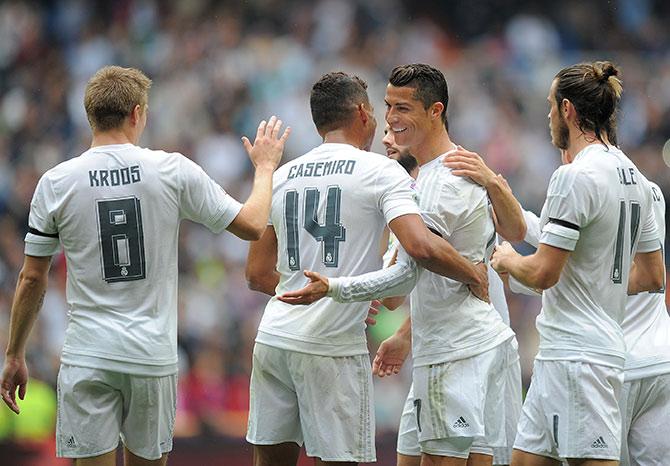 IMAGE: Cristiano Ronaldo of Real Madrid celebrates with teammates. Photograph: Denis Doyle/Getty Images
Cristiano Ronaldo's former teammate Michel Salgado believes the star striker will not leave Real Madrid for a fellow European heavyweight.
Ronaldo has been linked with moves to former club Manchester United and Paris Saint-Germain this summer after reports he would consider walking out on Real due to scrutiny over his personal income tax.
But Salgado doesn't see him playing for any other top club on the continent.
"I don't see Ronaldo with another shirt, at least in top football," goal.com quoted Salgado as saying at the Star Sixes tournament, where he is representing Spain.
"Maybe he will retire in Real Madrid and or maybe he is then going to try another league like the US or something like that. But in top football, in Europe, I don't think Ronaldo is going to change club. I think he is comfortable in Real Madrid," he added.
Salgado, a two-time Champions League winner with Madrid, further said that Ronaldo is the guy Real look to when they are playing the big games and that's why, in his view, the star striker will stay at the club.
"Ronaldo is going to play for Real Madrid for sure. I don't see him wearing other colours."
Salgado also feels that it would be tough for Ronaldo, who helped Real to clinch La Liga and Champions League in 2016-17, get any better.
"Well it is going to be difficult, because although he finished the season in amazing form and he is getting a little bit older every year," he said.
"But I know him, he is a professional, he is going to be ready to be the important guy that he is, in the important games. He is going to learn to do that," he added.
Manchester United manager Jose Mourinho, who managed Ronaldo at Real Madrid for three seasons, said on Sunday that trying to bring Ronaldo back to Old Trafford was "mission impossible".
Ronaldo has helped Real win the Champions League thrice, scoring twice in May's final as they became the first club to retain the title, and he is also the competition's record goal scorer with 105 strikes.
He has also helped his team to win two La Liga titles after joining it on transfer from Manchester United for a ten record 80 million pounds in 2009.
Lukaku warned of extra pressure at United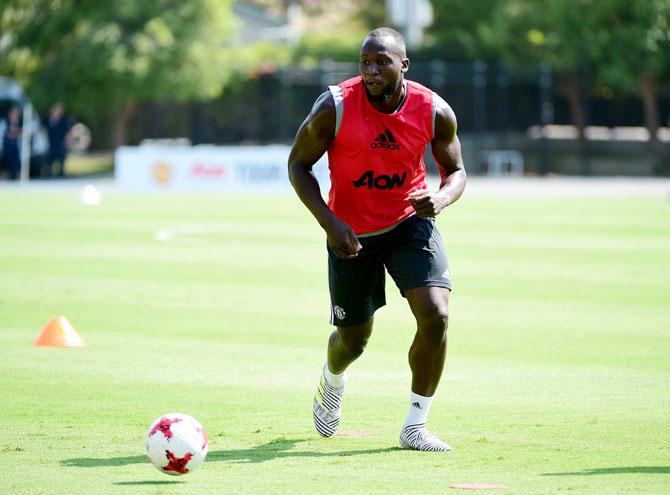 IMAGE: Manchester United's Romelu Lukaku at a training session at UCLA's Drake Stadium in Los Angeles, California. Photograph: Harry How/Getty Images
Manchester United striker Romelu Lukaku will need to deal with a "massive jump" after switching to Old Trafford from Everton earlier this month, club captain Michael Carrick has said.
The 24-year-old Belgian international made his debut in a 5-2 friendly win over LA Galaxy on Saturday and Carrick, who joined United from Tottenham Hotspur in 2006, expects the striker to thrive in an environment where expectations are high.
"The jump is massive," Carrick told British media.
"I found that myself coming from Tottenham... But having Premier League experience is a massive bonus. He'll know how things work week to week. It's just about dealing with the pressure.
"It's early days. It's one week's training and 45 minutes against Galaxy so you can't come to any conclusions. We know what he is all about, there are no surprises. We all know exactly what he brings and that is why he is here.
"He is not going to change his game because he has come here. He does what he does best and obviously he's been brought here to score goals. I am pretty certain he will do that this season."
United, whose last competitive fixture was their Europa League victory over Ajax, kick off the next campaign against Real Madrid in the UEFA Super Cup on August 8 and Carrick has urged the club to target more trophies next season.
"We have to challenge the best and be the best. It has to be that philosophy at this club no matter what happens, this season is no different," Carrick said.
"We finished last season with a trophy. We've got a good feeling going into this one. We've got the Super Cup coming up pretty quick, so we've got to be focused on that really and then the season ahead."
United continue their North America tour with a friendly against RealSaltLake in Utah on Monday.
Romero extends Manchester United deal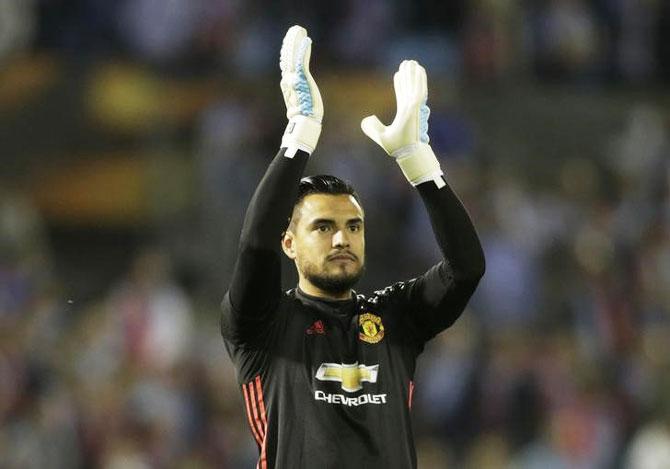 IMAGE: Manchester United's keeper Sergio Romero applauds. Photograph: Miguel Vidal Livepic/Reuters
Argentina goalkeeper Sergio Romero has signed a new contract with Manchester United that will keep him at the Europa League holders until 2021, the Premier League club said on Sunday.
Romero, understudy to Spain's David de Gea since joining United in 2015, played in the Europa League campaign that ended in a 2-0 victory over Ajax Amsterdam in May.
"I am delighted to have signed a new contract. Who wouldn't want to be at the biggest club in the world?" said Romero, whose deal gives him the option of another season after 2021.
"We have great goalkeepers here and we are always learning from each other. Of course, it was a very proud moment for me and my family to be part of the Europa League final, and I am looking forward to helping the team build on last season's success in 2017/18."
Manager Jose Mourinho praised the 30-year-old as a "great goalkeeper and professional.
"He had a good season and outstanding performances, especially in our Europa League success. Sergio deserves his contract, and for Manchester United to have Sergio and David is amazing in such an important role."
Romero holds a record 88 Argentina caps for a goalkeeper having kept his place in the team he helped reach the 2014 World Cup final despite not holding down the first team place at his last three clubs, including Sampdoria and AS Monaco.
United, who came sixth in the Premier League last season, qualified for the Champions League via the Europa League and will be aiming to win the European Cup for the fourth time.
Nolito returns to Spain after single season at City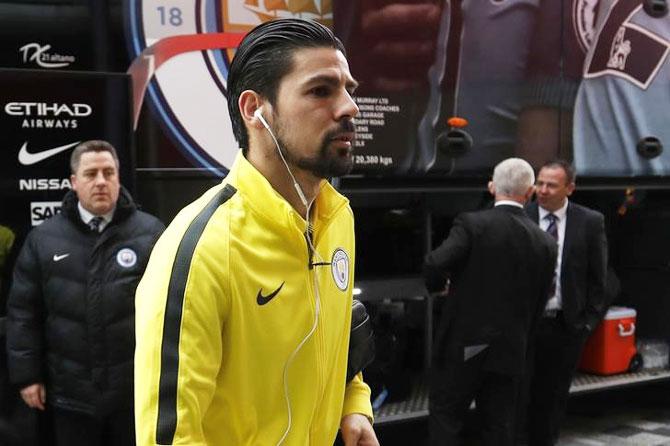 IMAGE: Manchester City's Nolito. Photograph: Russell Cheyne Livepic/Reuters
Spain winger Nolito has joined La Liga side Sevilla from ManchesterCity after failing to settle in England, the Premier League club said on Sunday.
Nolito was signed for City by manager Pep Guardiola from Spanish side Celta Vigo last July and made 30 appearances last season, scoring six goals.
City announced his departure in a brief statement on their official website (www.mancity.com), but did not disclose the fee they had received for the 30-year-old.
Spanish media reported last week that Sevilla had agreed a fee of 10 million euros ($11.47 million) with City to secure his services.
The player said in an interview with a Spanish radio station in June that he wanted to leave City, blaming his struggles to learn English and the weather in Manchester for his desire to return to Spain.
"I've learnt very, very little English. It's very hard. Just 'tomorrow', 'good morning', 'good afternoon' and a little more," he had said.
"My daughter's face has changed colour – it looks like she's been living in a cave."
A statement from the La Liga side said: "Nolito will be a Sevilla player for the next three years, until June 2020. The player arrived in Seville today, underwent a medical and signed his new contract with Sevilla alongside club president Jose Castro at the Sanchez Pizjuan stadium."
Sevilla said Nolito would fly out to Japan on Tuesday to meet his new team mates for their pre-season preparations, subject to being granted a visa.
Nolito's move to Sevilla sees him reunited with Eduardo Berizzo, his former coach at Celta Vigo who oversaw his two best campaigns between 2014 and 2016, leading to his first call-up for Spain in 2014.
Spurs' Cameroon forward Njie joining Marseille
Tottenham Hotspur's Cameroon forward Clinton Njie is moving to Olympique de Marseille on a permanent deal after spending last season there on loan, the Premier League club said on Sunday.
"We have reached agreement with Marseille for the permanent transfer of Clinton Njie," Spurs announced in a statement on their website (www.tttenhamhotspur.com).
Njie made 23 appearances and scored four goals for the Ligue 1 team last term, having struggled to establish himself at Spurs especially after a serious knee injury in December 2015.
He joined Tottenham in August, 2015, from Olympique Lyonnais for a fee of up to 10 million pounds ($13.10 million) according to British media reports and made 14 appearances for the club.
The 23-year-old, who has scored six goals in 15 appearances for his country, failed to start a single Premier League game for Spurs although he did make eight substitute appearances.