This and more from the happenings in the world of football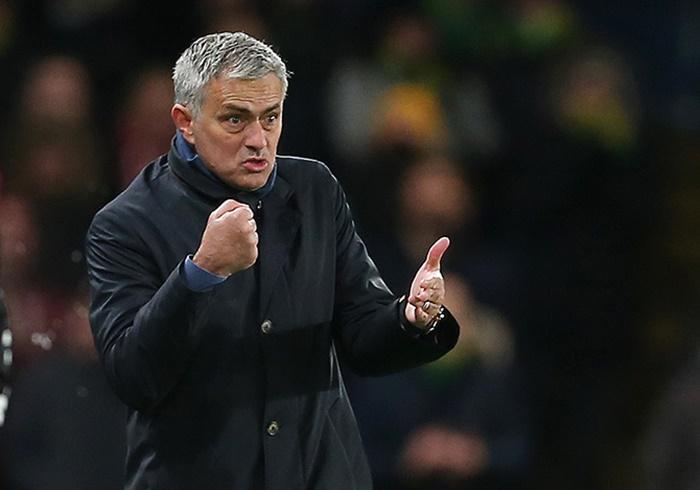 IMAGE: Chelsea boss Jose Mourinho during the Premier League match. Photograph: Matthew Childs Livepic/Action Images via Reuters
Manchester United manager Jose Mourinho will face no punishment from the English FA after being sent off during his side's 1-0 Premier League victory over Southampton on Saturday.
Deep into stoppage-time, referee Craig Pawson sent Mourinho to the stands after he appeared to step on to the pitch and accidentally collide with fourth official Mike Jones.
The FA received Pawson's report on Monday, however, and has decided no further action is necessary.
United maintained their unbeaten start in the league and are second in the standings, behind Manchester City on goal difference.
Villarreal name Calleja as coach
Spanish club Villarreal promoted Javi Calleja to first-team coach on Monday after sacking Fran Escriba following a poor start to the season.
Calleja, who played for Villarreal from 1999-2006, has coached at the club for six years at youth level, taking over Villarreal B at the start of this season.
"Villarreal and Javi Calleja have reached a deal which sees him become the first-team coach of the 'Yellow' side for the 2017-18 season," the club said in a statement.
Escriba was dismissed with Villarreal 14th in the La Liga standings after six games in which they suffered three defeats, including a humiliating 4-0 beating by promoted Getafe on Sunday.
The former Getafe coach had renewed his contract in May to the end of this season after being appointed in August 2016.
Villarreal were promoted to Spain's top flight in 1998 and 10 years later finished runners-up to Real Madrid in their best league campaign.
The team nicknamed "Yellow Submarine" suffered a shock relegation in 2012 but were immediately promoted the following year and have played in the Europa League each season since.
Juventus fined and president suspended over tickets for hardcore fans
Italy's soccer federation (FIGC) has fined Juventus, its most successful team, over an alleged scheme of giving tickets to hardcore fans to buy peace in the club's terraces.
FIGC had fined the club 300,000 euros ($355,650) and given further fines and temporary bans to four of its executives including president Andrea Agnelli, it said in a statement on Monday.
Juventus said it would appeal against the ruling. It denied wrongdoing and said it had always worked with police to ensure public safety and order.
Investigators had been looking into whether the club gave tickets to fans known as ultras to avoid violence or racial abuse in the stands that might bring fines or docked points.
Such a large number of tickets had been given out over such a long period of time that rules on contributing to fan clubs would have been violated, the FIGC court said, although there was insufficient proof that the recipients were touts or criminals.
"It is no mystery that the entire management was committed to repairing relations with the ultras," the ruling read.
Agnelli, a scion of the family that owns carmaker Fiat Chrysler, said in May he met the ultras to make sure they did not feel discriminated against, and to avoid "problems of public order".
The FIGC's court said Agnelli was not guilty of separate accusations that he knowingly met with a member of the powerful 'Ndrangheta mafia group who was involved in the ticket scam.
When he met alleged mobster Rocco Dominello -- who has denied any wrongdoing -- Agnelli was "totally unaware" of any illegality, the court wrote in its ruling.
Agnelli, who is also the head of the European Club Association (ECA), is now suspended from his role at Juventus for a year and will have to pay a 20,000-euro penalty.
The three other officials have been given the same fine and banned from their posts for up to one year and three months. ($1 = 0.8435 euros)