One hundred and twenty-seven of the world's finest men's tennis players will gather in a verdant corner of southwest London next week, their collective task to prove that Roger Federer is not invincible on grass.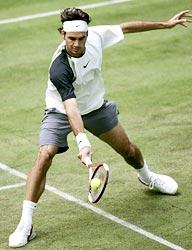 The Wimbledon champion has not lost for three years on tennis's fastest surface and will become only the third man in the professional era to complete a hat-trick of men's singles titles at the All England Club if he prevails again.
Since 1968 only Sweden's Bjorn Borg and Pete Sampras of the United States have achieved three successive Wimbledon men's singles triumphs and Federer would sit comfortably in their company.
The world number one has 29 consecutive wins on grass and if he wins Wimbledon again he will move to 36, within sight of Borg's record of 41.
The 23-year-old Swiss need fear nobody on his favourite surface but, sadly for his rivals, there is no danger of him becoming complacent.
"I always think I can improve. You can always serve and return better. I can definitely play better," Federer said after warming up by completing a hat-trick of Halle titles on grass last weekend.
"You've always got to watch out. There are some big servers around and some dangerous players."
Federer enjoys a big psychological edge over his two closest rivals -- Australian Lleyton Hewitt and American Andy Roddick -- having beaten both of them in last year's tournament.
Federer ousted Hewitt in the quarter-finals and Roddick in the final, allowing each to take a set off him before turning on the style to ensure victory.
Both pretenders are hell-bent on revenge and looked close to peak form at the Queen's Club championships last week. But their best chance of winning may lie in Federer being ambushed early from an unexpected source.
"Obviously Roger's the favourite," said Hewitt, the 2002 champion. "I think there's
only a maximum of a handful of guys who can actually hold up the trophy."
None of the leading trio are out-and-out serve-volleyers, which makes them, in theory at least, vulnerable to practitioners of two-shot tennis.
CROATIAN THREAT
One of those, Britain's Tim Henman, remains his country's best hope of a first men's champion since 1936, although the admirable aggression of lowly-ranked teenager Andrew Murray at Queen's Club last week suggested he could prick a few egos.
Two basketball-player-sized Croatians, Ivo Karlovic and last year's semi-finalist Mario Ancic, are capable of causing even Federer sleepless nights with their outstanding serves.
Ancic was the last player to beat Federer on a grass court -- in the Wimbledon first round in 2002.
Karlovic, a skyscraping 2.08m tall, generates deliveries of such trajectory and bounce that he has beaten Hewitt, one of the game's outstanding service returners, twice in succession on grass.
Impish Frenchman Sebastien Grosjean, a semi-finalist the past two years, and Argentina's rugged 2002 runner-up David Nalbandian will also have their say.
Fireworks are likely from this year's two grand slam winners, Australian Open champion Marat Safin and Spain's dynamic French Open winner Rafael Nadal, although the pyrotechnics may prove short-lived.
Neither likes playing on grass but such is their natural talent that neither can be discounted.
Nadal's dynamic court presence, with his flowing locks, bandana and pirate pants, is reminiscent of a younger Andre Agassi, the 1992 champion who has pulled out of this year's tournament due to injury.
Now 35, the father-of-two's fitness and motivation levels are on the wane and it seems likely the Las Vegan has made his last appearance at the All England Club.
Without him Wimbledon will be a poorer place, even with Federer as its three-time champion.