Force India stood by Adrian Sutil on Tuesday after their German Formula One driver was warned he faced an assault charge following a nightclub incident in China last month.
The Silverstone-based team said it had noted statements from Sutil and the other party involved, Eric Lux, chief executive of Renault F1 team owners Genii Capital, about the Shanghai fracas.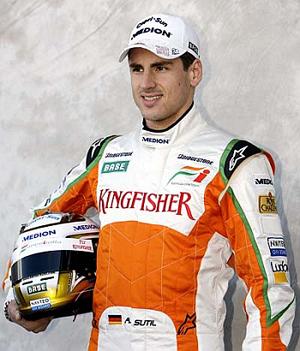 "Although the team continues to monitor the situation, it remains fully committed to its driver line-up at this weekend's Spanish Grand Prix," the team said in a statement.
Force India have highly-rated German Nico Hulkenberg, who competed for Williams last year, as their reserve driver should Sutil or Britain's Paul di Resta be unavailable to race.
A Swiss-based lawyer said in a statement on Monday that Lux had decided to file a criminal complaint against Sutil "for physical assault and grievous bodily harm.
"As soon as the complaint is registered, the (governing International Automobile Federation) FIA and the team Force India will be notified," lawyer Marc Henzelin added.
No details of the incident have been given by those involved, although witnesses have confirmed it happened at a party after the April 17 race won by McLaren's Lewis Hamilton, a friend and former team mate of Sutil's in junior series.
Sutil's manager Manfred Zimmerman issued a statement on Tuesday saying the driver had apologised but would contest any formal charges.
"Adrian has already explained (how) his actions in China resulted in the accidental injury of Mr Lux and has apologised unreservedly for his involvement in this unfortunate event," he said.
"Should Mr Lux proceed with his complaint, Adrian will use every available means to clarify his position and clear his name."