Polish Formula One driver Robert Kubica was flown to hospital on Sunday after a high speed crash while competing in a rally in Italy, his Renault team said in a statement.
A team spokeswoman said Kubica, Renault's leading driver and a race winner in Canada in 2008 with his former BMW-Sauber team, was conscious but gave no further details.
The Italian news agency ANSA reported, however, that the 26-year-old had suffered serious injuries with little more than a month to go before the season-opening Bahrain Grand Prix.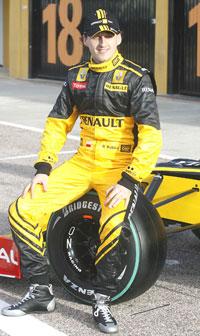 "Lotus Renault GP driver Robert Kubica suffered an accident at high speed this morning while competing in the Ronde di Andora Rally," the Renault statement said.
"The driver was airlifted to Pietra Ligure Hospital, where he is currently undergoing medical checks. His co-driver is fine.
"Lotus Renault GP will issue another statement as soon as more information is known about Robert's condition."
Renault have Brazilian Bruno Senna and France's Romain Grosjean as their official third drivers. Senna competed last season for the HRT team while Grosjean started seven races for Renault in 2009.
Neither has ever scored a point in Formula One. Kubica's race team mate is Russian Vitaly Petrov, who made his debut last season.
ANSA said Kubica was heading to the start of the Ronde di Andora event near Genoa in a Skoda Fabia when the car went off the road and hit a church wall.
The co-driver Jacub Gerber got out unhurt while Kubica had to be extracted by firemen.
Kubica, a keen rally fan who has entered several events previously, tested the new Lotus-backed Renault in Valencia last week ahead of the Formula One season which starts in Bahrain on March 13.
The Pole walked away virtually unscathed from a massive crash in Canada in 2007 but still bears the scars of a serious road accident as a passenger in 2003 that left him with titanium bolts in his arm.