Having moved to England to integrate better with his Renault Formula One team, Russian driver Vitaly Petrov might also want to learn some English idioms.
'Pot calling the kettle black' would be particularly appropriate, according to his team boss Eric Boullier -- Petrov's new neighbour.
The Russian said last month that he had learned nothing from his team-mate Robert Kubica during his rookie season last year because the Pole, who scored most of Renault's points in 2010, was such a closed person.
Boullier suggested at the launch of the new R31 car on Monday however that the complaint worked both ways.
"The funny thing is that Vitaly as well is not very talkative," he told reporters. "It is just two cultures, and they are basically the same.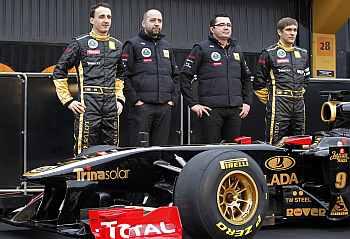 "Both of them (drivers) are very secret, not very talkative and Robert is clearly having his own life and he knows where he wants to go, and it is up to Vitaly to have the contact with him," added the Frenchman.
Boullier said Petrov, Russia's first Formula One driver, needed to be take the initiative rather than expecting anything to fall into his lap.
"That is one of the many subjects that we have discussed with him, that if he wants to deliver he has to find it by himself," he added.
"Not expecting people to give him for free - and it is the same for the relationship he has with Robert."
Petrov's future looked shaky for a while last season but his stirring performance in the Abu Dhabi finale, where he held off Ferrari's Fernando Alonso for much of the race, and his appeal to the Russian market helped him secure a new two-year contract.
The Russian said he felt far more relaxed about the year ahead and Kubica, who grumbled last year that he needed a competitive team mate, agreed he would have an easier time and was relaxed about the pairing.
"Definitely I think Vitaly will have less problems this year than he had last year, and it was normal for a rookie driver joining the team that it won't be easy for him. He's definitely starting from a better level, (having) an easier task than it was for him last year," the Pole told reporters.
"I'm happy to have Vitaly as a team mate and that's it," he added. The Pole shrugged off the idea that he had cold-shouldered the Russian, who had several non-finishes and off-track excursions last year.
"I don't want to get too much into the details. If he says this, he has his point of view. I have a bit of a different point of view," said Kubica.
"To be honest, I'm happy because I have learnt something from him even without knowing or wanting it -- how not to go off the track. No, I'm joking."
Petrov said he got on fine with Kubica and expected the performance gap between them to close this year.
"This year I think it is different already," he said. "At least I know the tracks, I know Formula One and where we can improve and the team will support me a lot."