The latest figures have shown that Everton manager David Moyes is the best value-for-money as the football boss.
The figures also showed that Everton has the lowest "price-per-point" ratio among the top ten Premier League teams.
Everson won 415 points, each costing 48,192 pounds, between Chairman Bill Kenwright's 2004 takeover and the end of the last season.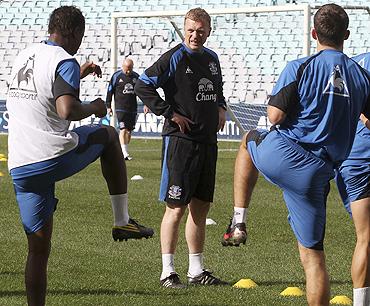 Moyes has proved that he can extract good performance from his players, irrespective of his budget, the Mirror Football reports.
Everton coach Alan Stubbs said Moyes is ready to spend on a list of transfer targets when the club is taken over by rich owners.
"If anything, it is a massive plus for the manager, because he has had to work the market. He knows the situation of the club and I don't think anyone can dispute what a fantastic job he has done," Stubs said.
"He wishes it were different and he has got a great understanding with the chairman. I think they are very open and honest with each other. We obviously haven't bought a lot of players in that time. Over the last four windows, I don't think we have actually bought anyone", he added.
Meanwhile, Kenwright claimed that Everton are better off with him remaining in charge rather than a new owner, who would burden the club with debt.
"Maybe there's a downside to having a chairman who is a football fan. We lose £4m-£5m a year, that's a lot of money, that's a player to David Moyes", Kenwright said.
"I think Evertonians would rather stay with me, with all my drawbacks, if they knew [that a potential new owner would saddle the club with debt," he added.