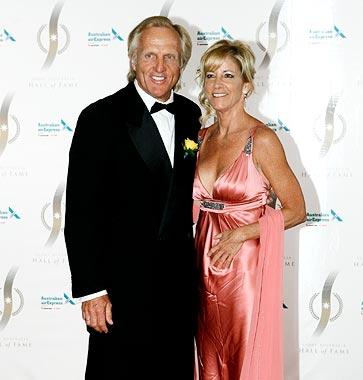 Former tennis champion Chris Evert and ex-golf number one Greg Norman announced their engagement on Friday, during the South African Open golf tournament in the South-Western Cape.
Evert and Norman have both divorced their spouses in the last year -- Australian Norman agreeing a reported $100-million (49.4-million pound) settlement with Laura in September and Evert splitting from Andy Mill, her second husband, last December.
Evert, the winner of 18 Grand Slam singles titles, confirmed the engagement at a news conference to announce she would be building a tennis centre at the Pearl Valley Golf Estates, where the South African Open golf is being held.
Asked whether there were any marriage plans between her and Norman, the American, sporting a large diamond on her left ring finger, replied: "Well, it is an engagement ring. We were engaged on Sunday night coming over here, en route to South Africa. We don't know when and where we'll be married though."
Evert, 53, jokingly asked Norman: "Why don't you say something to them [the media]? Gee, you're a big chicken!"
The 52-year-old Norman, a former world number one, is lying seventh equal in the South African Open on the second day of the tournament.
Photograph: Simon Fergusson/Getty Images