The Austrian Alps have long been a magnet for hikers, adventure sports fanatics and 'Sound of Music' nostalgists.
Nearly 50 years after Julie Andrews skipped through the region in the famous musical, the hills are now alive with the sound of footballers flocking for summer training camps and friendly internationals.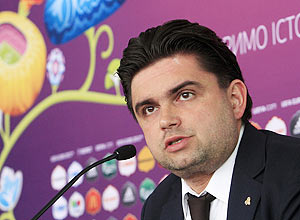 Euro joint hosts Ukraine and Poland have both set up camp, as have 2004 winners Greece and defending champions Spain.
Austria's own soccer fortunes have dwindled but the country, which co-hosted Euro 2008, is still managing to stage 11 full internationals in a 14-day period.
These include such unlikely encounters as Greece against Armenia at the 4,500-capacity ground of third division FC Kufstein, on Thursday.
The Greeks, regular visitors to Austria for the last 30 years, are staying at a five-star hotel in Kitzbuehel, famous for its alpine skiing race.
Poland are in the self-styled sun capital of Lienz, Ukraine on the Walchsee, a picturesque lake near the German border, and Spain in Schruns, a picture-perfect Alpine village where they were also based before the 2010 World Cup.
Teams who failed to qualify for the tournament are also consoling themselves with time in a mountain getaway and Salzburg, which offers Sound of Music tours, is playing host to three matches involving the Turkish national side.
"It's the climate which is not too hot and not too cold, the quality of accommodation, the infrastructure and the quality of the fields," said Dieter Dubkowitsch, general manager of the Montafon tourist board who covers the region where Schruns is located.
"It's also a chance for the teams to get away from it all. They are under pressure every day, here it's a bit rural, it's a bit relaxed and I think that, after a long season and with a tough tournament ahead, that helps the preparation."
Dubkowistch said the that Montafon region benefitted from the world champion Spain's presence even though its market is aimed firmly at Germany, Switzerland and Netherlands.
Photograph: Anatolii Stepanov/REUTERS