Germany coach Joachim Loew is out to unearth a mole in the camp who has been tipping off German media about his starting lineups at Euro 2012, the players said on Saturday.
A day after Germany beat Greece 4-2 to book a semi-final spot, attacking midfielders Marco Reus and Andre Schuerrle revealed Loew had been unhappy with the lineups being leaked hours before their group games and again on Friday.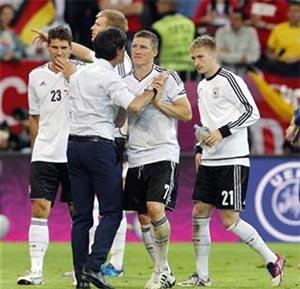 "It is unfortunate that this has happened because at 1400 all the German media knew. There must be a leak," said Schuerrle.
"It is true that the coach talked to us about it and he was not happy. I do not think it is someone from the team because I cannot imagine it being someone from the team," he said. "There must be a leak and it is very unfortunate."
Loew made three surprise changes to his forward line against Greece but hours before the game the lid on his secret was blown with several German media outlets running the overhauled lineup.
Schuerrle and Reus, along with striker Miroslav Klose, were the three players who had slipped into a surprise starting team that took the Greeks by storm.
There were similar leaks in Germany's three group games.
"I do not know who the mole is but in the end I don't think it was a drawback for us," said Reus, who scored on his Euro debut.
Photograph: Bartosz Jankowski/Reuters