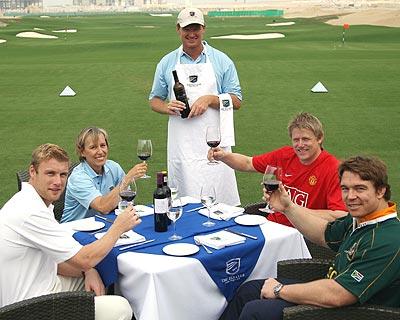 South African golfer Ernie Els uncorks the wine for England's Andrew Fintoff, tennis legend Martina Navratilova, former Manchester United goalkeeper Peter Schmeichel of Denmark and former captain of the World Champion South African rugby team John Smit during the launch of the Els Course at Dubai Sports City on Monday.
Winner of the 1997 US Open, Els debuted as a golf course designer in Dubai.
This outstanding golf course is the first of a select number of hand-picked projects that will bear Ernie's name directly, each providing a first class, memorable golf experience, combined with five-star service and prestige.
"Right from the start we knew we wanted to embrace the uniqueness of this amazing environment and incorporate the natural dunes and native plants into our design, both from an aesthetic and strategic standpoint," explained Els on his website.
"We call it a 'desert links' and I think that captures the essence of this golf course nicely. I mean, there is a genuine sense that you are playing golf in the desert and that was definitely one of the single most important design goals of ours. We really didn't want something that looked artificial."
The Els Club golf course in Dubai is set on undulating slopes of native desert vegetation; it is a links style layout combining traditional classic design. Stretching 7,538 yards from the tips, it features four sets of teeing areas allowing players a selection of differing lengths from which to play.
Photograph: Getty Images