Jose Mourinho has told his players not to act selfishly in his second spell as manager of Chelsea otherwise there will be "big trouble" at Stamford Bridge.
Divisions emerged in the dressing room during the last few months of Mourinho's reign at his previous club Real Madrid and he seems determined to avoid a repeat.
"If you are a top professional, if you are not a selfish person, if you put the club in front of yourself and if you are here to work 100 percent for me, for your fellow players and for the club, we will have a wonderful relationship," he told reporters.
"If you are selfish, if you don't care about the club, don't care about the fans, don't care about the image... we are in big trouble.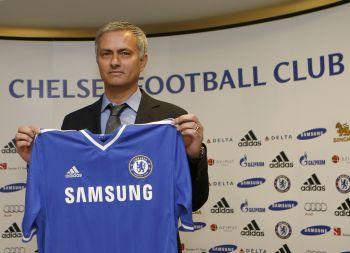 "Sometimes you have groups that adapt to this in a very easy way. Sometimes you have groups that this becomes like a doctrine and everything is easy," said Mourinho.
"Sometimes you have a couple of guys who are not so keen to accept these kind of rules and this is where you have some problematic relationships."
Mourinho is one of eight Chelsea managers to have been appointed since Russian billionaire Roman Abramovich bought the club in 2003.
The Portuguese's close friend Alex Ferguson, who retired last month following a remarkable 26-year spell as Manchester United boss, once said that a regular turnover of managers gave more power to the players.
"What Sir Alex says in relation to English football is doctrine, it's the bible," said Mourinho.
"If he says that with so many years of experience then I think he is correct. Does it relate to this club? I don't know."
Mourinho has signed a four-year contract with Chelsea and he believes stability is important to the Europa League winners especially as they have started to invest in youth in the last year or two.
"Last season this club won the trophy I don't want to win," he said. "I won it with Porto before I won the 2004 Champions League and that is the way it should be done, you win first the Europa League and after you win the Champions League.
"I want to go back to always playing in the Champions League and playing in it without risk.
"Two seasons ago Chelsea had risk, if we hadn't won the 2012 Champions League we wouldn't have played in it the following season because we finished sixth," said Mourinho.
"This season we also had risk until the last match... so we need to go back to this stability. Stability is important for the development of the young players, for the club, the fan base, for the economic situation that is more and more important with FFP (Financial Fair Play).
"I think the owner and board, they want very, very much this stability."
Photograph: Suzanne Plunkett/Reuters