Spain international goalkeeper Pepe Reina has left Liverpool for a season-long loan at Serie A club Napoli, but said in an open letter to fans of the five-times European champions it was not his decision to leave Anfield.
Reina, 30, who joined Liverpool in 2005, said he wanted to extend his contract at Anfield and was not consulted before the loan move was agreed.
"Although it was not my decision to leave I will accept it.
"If I have one regret, it is the way that I am leaving," wrote Reina, who made nearly 400 appearances for Liverpool in all competitions and has played 28 times for Spain.
"It is only natural that I would be disappointed that the Liverpool management agreed to loan me to Napoli without telling me first.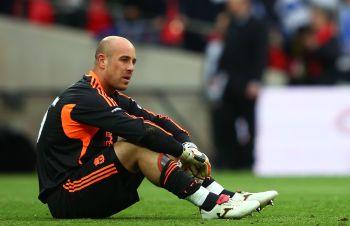 "I thought that I deserved better than that even though I understand that difficult decisions have to be taken in football."
Reina, the first choice at Liverpool until last season, might well have found himself on the bench for much of the coming campaign following the signing of Simon Mignolet from Sunderland.
The Spaniard said he was looking forward to the Napoli challenge and linking up again with his former Liverpool boss Rafa Benitez.
"I have to look forward to a new challenge with Rafa Benitez, who I consider to be the best manager I have worked with, and I am fortunate to be going from one great club to another," he wrote.
"Napoli remind me in many ways of the Liverpool I found in 2005, in all the affection they have shown me on my arrival, in having an ambitious project, even in coinciding and working with Benitez again."
Image: Pepe Reina
Photograph: Clive Mason/Getty Images