Chelsea manager Jose Mourinho has left the door open for Juan Mata to quit the team, but insisted that he does not want the Spaniard to leave.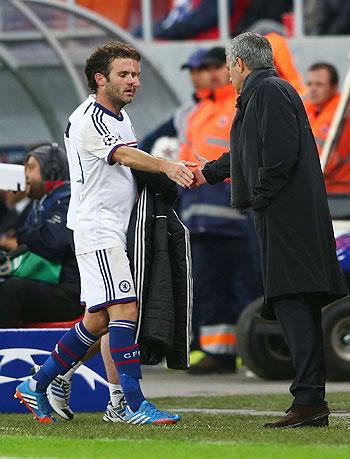 According to the Metro, Mata started a match against Southampton, but reacted angrily when he was again substituted before the hour mark by Mourinho. While the Chelsea boss insisted he was unaware of the midfielder's frustration, Mourinho admitted Mata's StamfordBridge future is uncertain.
"I want to keep him, I want to keep him, I don't want him to go," Mourinho said.
"That's my opinion, my wish. But my door is open and the club's door is open too.
"When a player wants to speak with us, we are there waiting, waiting for them. But if you ask me, 'Do I want the club to sell him?' I don't.
"It will never start from us, the desire to move a player that we like. We've had no bids," Mourinho was quoted by the Telegraph.
Inter Milan, Paris St-Germain and Manchester United have Mata on their radar for the January transfer window.
Image: Juan Mata (left) of Chelsea greets manager Jose Mourinho (right)
Photograph: Michael Steele/Getty Images