He is just 21 but Tottenham Hotspur defender Kyle Walker has already achieved so much with promise of much more to come. The defender has become a regular starter for Spurs this season and also made his England debut, against Sweden, which he capped with a man of the match award.
Walker is being hailed as the next big thing in English football following his impressive performances for Spurs this season. He was signed by Spurs in July 2009 but spent a couple of seasons on loan away from the North London club.
This season though Tottenham manager Harry Redknapp brought the youngster back to White Hart Lane and gave him a contract extension till 2016. He has so far not let his manager down with a string of superb performances at right back including the winning goal against Arsenal in October.
In an interview, Walker speaks about his recent good form and why he believes Tottenham Hotspur can go all the way and win the English Premier League title this season.
It's been a wonderful year for you, with your recent England performances and named man-of-the-match on your debut...
Yeah, it's been a whirlwind of a two years, but a lot has happened in the last two months. Obviously I'm getting a regular start in the Tottenham team which I wanted to do, I've had a little boy and also my England debut. It's been a mad start to the season and I just hope it carries on this way really.
So all of these wonderful performances have come with the sleepless nights as well...
Yeah, to be fair my missus is doing a lot of the shifts in the night, I just do them in the day, which is pretty good. Hopefully she keeps it up!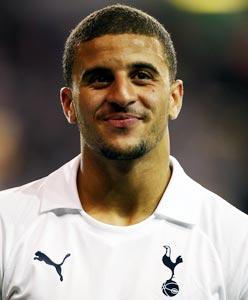 The England game, can you remember much of it or is it something that went quite quickly? To get the man-of-the-match award afterwards, I can image that something like that is the stuff of dreams...
Obviously I just have to treat it as a normal game. You take in the occasion and everything, but you don't want it to get the better of you, you don't want it to be a distraction. So I just try to play my game and show the fans and the gaffer what I can do, so hopefully that came across well. It's not my first time in an England squad, I've been in five or six now. When I first went to training I thought that he (Fabio Capello) must see something in me for me to be there, so I just tried to keep level headed and keep my feet on the ground and go in there to try and show them a good attitude that hopefully I show my club every day and hopefully the rewards will come from that.
At Tottenham you're flying, and so are the team.
Yeah the players here are absolutely class. It's definitely the best squad I've played in and I think hopefully we can go on and be contenders for the title now. Obviously at the start of the season we were aiming for a top four finish, but I feel we can push for the title and that it's in our hands really.
It seems as though there's a good feel about Tottenham at the moment, that must help the football...
Yeah there are no arrogant players in here, we're all a team. Even the guys that unfortunately aren't playing, they're 100 percent behind the ones that are playing, and when they do come on the pitch they take their chance and they're giving the manager something to think about so it's all positives around the Club.
And in the last couple of months there was your goal against Arsenal...
Yeah, I mean you just have to take a shot and luckily for me it went in, so hopefully I can come up with a few more goals but that's not my job, my job is to defend and going forward is just a bonus in my game. If I can set up a few more goals for Manny and JD then that will benefit me.
Harry has always been renowned as a manager who brings through some really good young players like Rio Ferdinand, Frank Lampard and Joe Cole, what is he like as a manager for a young lad? Some people have said that he's the kind of manager who puts an arm around you and just gives you the confidence to go and play...
Yeah it's great to have him around and he's helped me out massively. He's always there to lend a hand and if there's something he thinks you can improve on he sits down with you and goes through it, so it's all positives and I'm grateful that he's given me the opportunity and put his faith in me to go out and play football.
If you go back to the start of the year, you were actually at QPR and people were really sitting up and taking attention because Neil Warnock was singing your praises there...
Yeah, obviously I worked with him at Sheffield United and a big thanks goes out to him for giving me an opportunity. I went to QPR and they were top of the table and there wasn't so much pressure on me, it was just, 'go out there and enjoy your football and get back to playing how you used to play'. Then going to Villa, I'd have to say a big thanks to the gaffer there (Gérard Houllier) as well for putting his trust in me, it's a big step from the Championship to the Premier League and he put his faith in me and his words were that he'd play me every game, which he kept to, and I thank him massively and I hope he's well.
QPR were desperate to keep you weren't they, but the lure of Premier League football...
Yeah, I always had to go out and play in the Premier League just so I could prove to myself and prove to the gaffer here that he can trust me, and that the gamble to bring me in from  Sheffield was worth it. So hopefully I've put the trust and faith back into him and hopefully he keeps playing me.
You mentioned the signing from Sheffield United, back then you only had a few appearances and suddenly Tottenham were knocking on the door...
Yeah I think it was only five appearances I played for them. Kyle Naughton was more experienced in the team and played nearly a full season there.  I went on loan to Northampton and came back so I just had to be patient and wait for my chance and I was grateful to play wherever the manager wanted to put me.
Looking towards 2012, there's the Euro's to think about, but first and foremost are you thinking mostly on your club performance?
I'm a very short minded person, I only think for the week ahead and anything else I'll come to that when it approaches.
If I may ask you about the Euro's though, it's an exciting time for England at the moment with an exciting crop of talented young players coming through, but there are the older guys who still have a lot to offer as well...
Yeah definitely, it's exciting times for England and when I first went there, there was only me and Jack (Wilshire) in there from the Under-21's, then Andy Carroll came in, then Jordan Henderson and Danny Welbeck, Phil Jones, Chris Smalling, the list goes on. It's exciting and I'm lucky to be a part of it.
How much of the unity from the Under-21's comes forward into the senior team?
Yeah I think a lot, we stick together. Obviously they've known each other and we've known each other. We didn't have a very good tournament last summer, but I think everyone will hold their hands up to that one. So hopefully we can put it right in 2012.
How do you see your future?
I'm 21, there's still a lot to come from me, I'm still learning the game, still learning my role within the team. I'm still learning who I'm playing with, sometimes I play with Aaron (Lennon) and sometimes I play with someone else, so I have to learn to adapt to different people. I feel I can offer a lot more to the team and also to Tottenham Hotspur Football Club.