I'm glad I sent Arsenal fans home happy, says Mourinho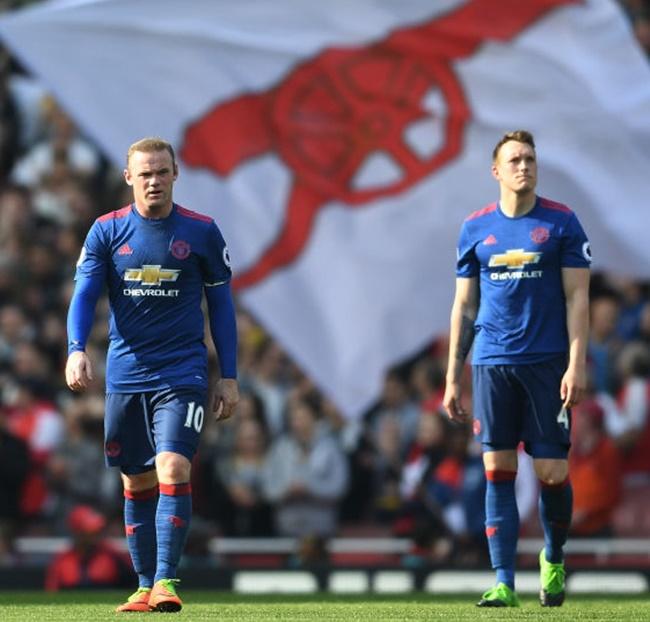 IMAGE: Wayne Rooney of Manchester United and Phil Jones of Manchester United are dejected. Photograph: Laurence Griffiths/Getty Images
Arsenal manager Arsene Wenger and Manchester United counterpart Jose Mourinho both insisted the London side's 2-0 win on Sunday was not about them, or their rivalry, but in many ways it was.
Here's why top four finish is IMPOSSIBLE for United
Ever since the outspoken Mourinho strutted his way on to the Premier League stage as Chelsea boss in 2004, the Portuguese coach has always been able to get the better of Wenger.
Sunday was the first time a Wenger side had beaten a Mourinho team in a competitive game - the Frenchman's only other triumph coming in the 2015 Community Shield win over Chelsea.
To end United's 25-game unbeaten run with such an impressive performance was special, even if Wenger would not to admit it.
Over the years, the Arsenal boss has frequently been insulted by his great rival, who famously once called him a "voyeur" and "a specialist in failure".
By 2014, the rivalry had become so heated that Wenger pushed Mourinho as the pair clashed in the technical area during Chelsea's 2-0 Premier League win at Stamford Bridge.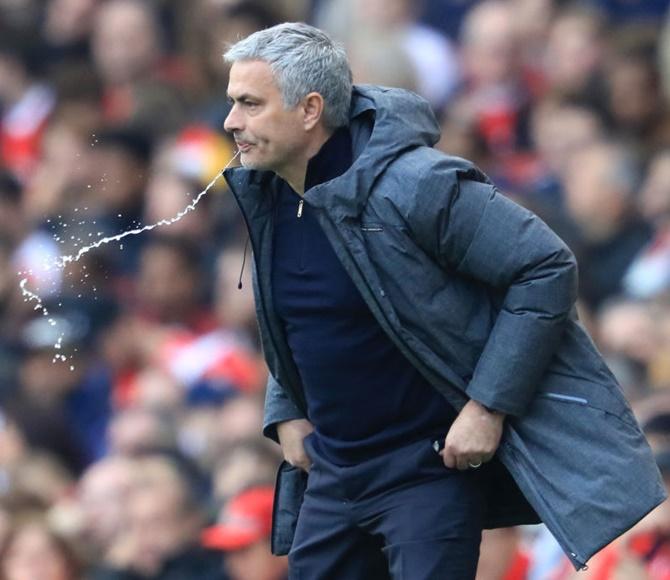 IMAGE: Jose Mourinho, Manager of Manchester United. Photograph: Richard Heathcote/Getty Images
On Sunday, there was only a momentary flashpoint, when Mourinho rushed out after Wenger complained to the fourth official about an attempted foul by United's Wayne Rooney.
But all the time the bad blood was simmering, and Mourinho could not resist a parting dig when questioned after the game.
"This is the first time I have seen the Arsenal fans happy," he said. "I left Highbury and they were crying, I left The Emirates and they were crying. Today they had their scarves out and they were singing.
"But they are a big club. Do not think that I am happy that they are not winning trophies. And Arsene Wenger is a big manager so my record (in never losing a Premier League game to him) is not normal."
Handshakes were duly exchanged by the pair before and after the game, so perhaps future meetings will be less rancorous.
For Wenger, victory at least ensures that people will become less interested in the story line.
The bigger picture for Arsenal is that they remain in contention for a top-four finish that may convince some of the doubters that Wenger is worth a new contract when his current deal expires at the end of the season.
On Sunday, Arsenal showed what might still be possible under the Frenchman: slick football, full of guile and intelligence, played at sometimes dizzying pace.
It is just a shame they have left it so late in the season to show what they are capable of.