Skipper Robin van Persie scored a hat-trick as Arsenal beat Chelsea 5-3 in a remarkable Premier League match at Stamford Bridge but Manchester City stayed top of the Premier League with a 3-1 home win over Wolverhampton Wanderers on Saturday.
City stayed five points clear at the top from Manchester United and moved nine clear of third-placed Chelsea with second-half goals from Edin Dzeko, Aleksandar Kolarov and Adam Johnson.
Wolves' goal came from a Stephen Hunt penalty after City skipper Vincent Kompany was sent off.
Manchester United bounced back from their 6-1 mauling by City last weekend with a 1-0 victory at Everton where Javier Hernandez scored the first-half winner.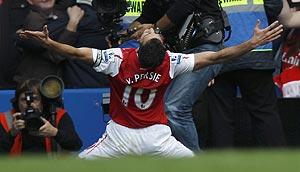 Those results left City top with 28 points from 10 games, followed by United (23), Chelsea (19) and Newcastle United (19) until they meet Stoke City on Monday.
Wigan Athletic sank back to the bottom of the league after they lost 2-0 at home to Fulham and Blackburn Rovers drew 3-3 at last-gasp Norwich City to climb from 20th to 18th.
The game of the day was at Stamford Bridge where Arsenal won with a hat-trick from Van Persie, including two in the last seven minutes, and one each from Andre Santos and Theo Walcott.
Chelsea led twice with goals from Frank Lampard and John Terry but although they then came back to equalise with an 80th minute goal from Juan Mata, they went on to concede five at home for the first time in a league match since Liverpool beat them 5-2 in 1989.
In other action Swansea City beat Bolton Wanderers 3-1 and Sunderland drew 2-2 with Aston Villa.