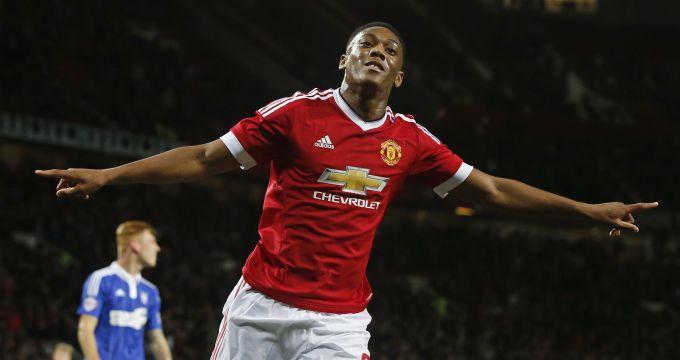 IMAGE: Manchester United striker Anthony Martial has not found favour with coach Jose Mourinho. Photograph: Andrew Yates/Reuters
Manchester United striker Anthony Martial has put to bed all speculations about him leaving Old Trafford this summer.
The Frenchman has been strongly linked with a big move to Paris Saint-Germain after being forced out of United playing XI by manager Jose Mourinho.
However, Martial quashed any such move and called on his fans via his Twitter account not to listen to the rumours, Sport24 reported.
"Don't listen (to) the papers it's wrong thanks. Come on United," Martial tweeted.
The speculations came just days after Mourinho had spoken frankly about the Martial, who was United's top scorer last season with 17 goals in all competitions.
Mourinho had called on the 21-year-old forward to perform better than the others if he wants to cement his position in the first team.
"He has to perform better than the others who are competing for the same positions (if he wants to start). His position is one where we have lots of options. Do you want me to leave (Henrikh) Mkhitaryan out? I can't," Mourinho had said.
"The players pick themselves. I am just there to analyse what they do and try to be fair with them," he had added.
Martial joined the Old Trafford from Monaco in September 2015 in a deal potentially worth of up to 58 million pounds.
He has struggled to cement a place in the first team under Mourinho and has not played at all in the last three Premier League games.
Mourinho's men will now be looking to break into the top four when they host Watford in their next Premier League clash on Saturday.