Mario Balotelli is reportedly taking Manchester City to a Premier League tribunal to overturn a £340,000 club fine.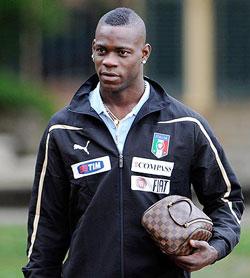 The controversial Italian striker will appear before an independent two-man panel in London on Wednesday after being docked two weeks' wages by the champions. It is learnt that City handed down the fine after deciding that Balotelli was guilty of a series of breaches of discipline, the Daily Mirror reported.
According to the report, however, the 22-year-old believes that the punishment is unjust. After failing with an appeal to the club's hierarchy, he instructed his agent to pursue City through a tribunal. If Balotelli loses his appeal, he faces paying the five-figure costs of the hearing, as well as the fine, the report said.
City's Abu Dhabi-based owners are worried that Balotelli is giving the club a bad image with his constant indiscretions -- on and off the field -- the report added. Manager Roberto Mancini is also beginning to waver in his support for a player described as "unmanageable" by Jose Mourinho while at Inter Milan, the report concluded.