Barcelona forward Lionel Messi has paid an emotional tribute to Pep Guardiola, after he announced leaving the Catalans at the end of the season.
Messi, who has won FIFA's top individual award for the last three years, said whatever he is today is because of Guardiola, and credited him for turning him into world's best player.
 "I owe him everything. I want to thank Pep from the bottom of my heart for so much that he has given to my career and to me as person," The Sun quoted Messi, as saying.
Messi also clarified that he didn't attend Guardiola's press conference because he was not in the right frame of mind.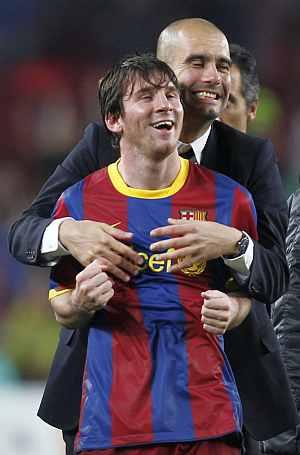 "Due to the deeply emotional time this is for me I preferred not to be at Pep's Press conference," Messi said.
"I wanted to stay away from the media because I know they will want to see the sadness in the faces of the players and it is something I decided not to show," he added.
Abramovich offers 'carte blanche' to Guardiola at Chelsea
Meanwhile, Chelsea owner Roman Abramovich has offered Barcelona manager Pep Gaurdiola complete authority to manage the club, as he attempts to bring him to Stamford Bridge following his announcement to quit the Catalan club.
As per reports, negotiations between the Chelsea representatives and Guardiola have been going on over the past few months, as Abramovich has sought to persuade the Spaniard to become the next manager of Chelsea.
The Russian tycoon has reportedly promised Guardiola 'total control' of Chelsea, in terms of how the club will run and is structured and which players would be bought and sold.
According to The Telegraph, despite Guardiola's denials, Chelsea sources claim that he did meet Abramovich and the Russian's highly-influential personal assistant, Marina Granovskaia, in Paris.
However, Guardiola has said he is determined to take a break from football, which could amount to a year's sabbatical from the game, and isn't 'interested in coaching right now'