D
mitry Tursunov
is demented. He abuses racquets, balls, the net, umpires; scowls at the ball kids and even his supporters. During the last week, Mumbai saw him complain about the demanding conditions, saw his temper flare and fuel him to succeed. He behaves like a spoilt kid and tries to humour himself out of the situation the next moment.
The centre court at the Cricket Club of India was surrounded with trees; and one of them kept shedding its flowers right over the baseline. Tursunov seemed distracted by it and asked the ATP officials to clean it up with a vacuum cleaner.
In his quarter-final match against James Auckland, he had an argument with the umpire because he was not allowed to leave the court so that he could explain the specifics to the local stringer. Later, he deliberately swung the racquet, sending the ball into orbit following a bad serve from Auckland and asked the umpire, "Is that out?"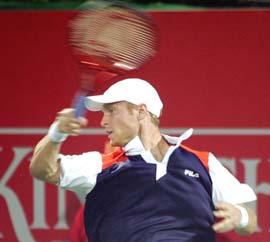 Fortunately, his serve and forehand are as sharp as his tongue. He claimed his maiden ATP title and broke into the top-20 for the first time after beating Tomas Berdych 6-3, 4-6, 7-6 (5) in final on Monday. Watching him play, with all the obvious talent and antics, remains an experience for the city.
"I probably lost about 10 years of my life playing this," he said. "I think both of us were playing really, really tight and you know it was really a crap-shoot in the tie-break.
"I was up two breaks in the third set and still went to the tie-break, so it was definitely nerve-wracking, but I'm really happy that I won and just really hope that it won't go into a tie-break in the third set in a final again."
Tursunov was once upon a time another rising, talented player in the tennis world. Then came Estoril; since the ATP empowered him with the might of the pen, or the keyboard in this instance, the pink-faced, blue-eyed blond Russian with American wit has become a walking terror in the locker room. What's more his game is also showing better results!
He claims that players cringe at his sight, let him win for the fear that he may write something nasty about them and he has even inspired George Bush into writing blogs.
Tursnuov surged into the popularity ratings with his posts from Estoril, where he talked about the adventures of the local drivers and French dudes trying to rap. He was funny, a tatter tale; at times scandalous but always amusing. ATP's initiative to popularise the game through player blogs took off big time with his stories.
"It was an interesting idea. The blogs would help the fans get closer to the players," explains the 23 year old. "People will realise we are just normal human beings who play tennis more often."
Sample this:
'Another reason I'm resuming (the blog) was just the sheer whining I had to put up with in the locker room. "Can you please write something about me?", "Can you write something about Tommy?", "Say something mean about Bobby! I don't like him!", "Johnny bageled me! Tell everyone he sucks!" -- and so on and so forth.
'Thomas Johansson is calling me "Maestro", "Blog King", "The Chosen One", and the "Richard Pryor of Blogging" after he realised how difficult it is to blog on my level, and even Roger (Editor's note: As in you-know-who) asked for blogging lessons for his own web site. He is trading 3 of his Grand Slam titles because he spent all of his money on some pastures for his cow, or something like that, so he just wants to trade instead of paying cash!'
Leaning on the fence of the gallery overlooking the Brabourne stadium in Mumbai, Tursunov is not the comic you expect. He reads Fyodor Dostoevsky. He is serious about tennis and rationalises the way he was dragged into the game by his father Igor, a nuclear scientist in Moscow. He was packed off to a tennis academy in the US by his father when he was 12.
"When you are 12 you hardly ever make a career choice," he says. "My father pushed me into tennis. Getting up early and the discipline is never what a 12 year old would choose. But now that I look back at it, I don't know how else it would've happened.
"I started enjoying the game personally when I was about 18. It's not that just one day you start loving the game and never feel like leaving a tennis court. It's a process, something you learn to love."
The early life is somewhat similar to that of his idol Andre Agassi, in that both were pushed by fanatical fathers for whom their child's success on the tennis court was all that mattered. Though he adores Agassi and would love to have as long a career, it is the humanitarian aspect of the man he respects most.
"He gave back a lot to society. He recognised very early in his life about the work that needed to be done; he started his own charity and is now looking after so many children. For that he will be remembered more than anything else."
The Russian is not as prodigious a talent as Agassi, his career has been set back by three major injuries, but he has some big weapons in his serve and forehand and is making rapid strides on the ATP list.
Starting the year at 60, Tursnuov has thus far progressed to 22. And, he believes, if he possessed Jackie Chan's coordination skills and tennis would be played on ice, he could be in the top league.
He is doing well on the ATP circuit and seems to have a penchant of drawing 15-year-old local wild card entrants for his first round. He demolished Portugal's Gastao Elias 6-2, 6-1 in Estoril but had a tougher time dismissing India's Akash Wagh 6-2, 7-5 at the Mumbai Open.
"The 15 year olds have started playing better. Obviously this one (Wagh) was more difficult than their earlier one. I don't know what will happen if I meet the third."
The RUSSIA emblazoned shirt is not the only indication; Tursunov was still feeling the effects and the euphoria of the marathon Davis Cup semi-final against Andy Roddick. He flew straight from cool Moscow to humid Mumbai, clay courts to hard courts and packed houses to an empty stadium.
The win over the United States is still a blur. After he beat Roddick 17-15 in the fifth set, in four hours and 45 minutes, and took Russia into the Davis Cup final, his mind went blank for the next two, three hours.
"The win was special because it came on clay; to become a good player you need to show results on all surfaces. I don't remember what anyone said or what I did. The crowd was shouting 'Thank you, Thank you'.
"(The former) President (Boris Yeltsin) told me 'good job'. He watched the match for five hours but I don't think he had a clue, he wasn't sure whether he was playing the match or I was and he just comes up to me and says 'good job'."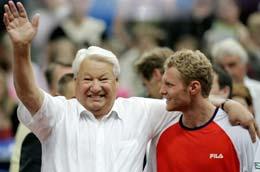 (Left: Dmitry Tursunov with Boris Yeltsin)
Sarcastic. That's what he is most of the time. He can be disdainful. He's not look-at-me-I'm funny (unless you count the grossly mismatched bright orange shorts and blue striped white shirt).
Every time he senses the potential for an amusing remark, he says it with a suppressed smile. And waits for the audience reaction like a 10 year old.
The Russian's quick wit has already earned him some brownie points (or exclamation points since he loves them so much) with tennis fans. It is now up to him to score chunks of Grand Slam and Super Nine points and go higher up in the rankings. The triumph in Mumbai indicates he will.