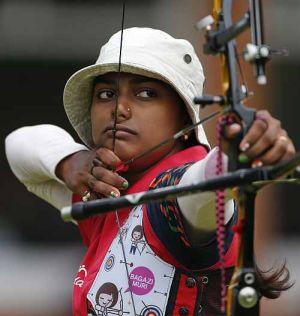 Ace Indian archer Deepika Kumari crashed out of the World Championships as India's campaign in both recurve and compound individual events ended on Thursday on a disappointing note in Belek, Turkey.

None of the Indian archers, except Rajat Chauhan in the men's compound event, were able to advance beyond the round of 16 in the individual events in the men's and women's sections. The Indians though are in the fray in the team events.

India's best bet for a medal, Deepika suffered a disappointing 2-6 loss to Mexico's London Olympics bronze medallist Mariana Avitia in the women's individual recurve event at the Papillon Sports Center.

Deepika, who had won a silver in the World Cup final in Paris last month, was able to tie her opponent in the second fourth sets but lost the first and third to go down 25-28, 26-26, 21-22, 26-26 to Mariana in the round of 32.

Veteran Dola Banerjee performed better, getting past round of 32 with a 6:0 thrashing of Lisa Unruh of Germany. Unfortunately, Dola was up against the top archer in the world in Korea's Bo Bae Ki, who humiliated her 6:0 in the pre-quarterfinal.

In the men's individual recurve event, Tarundeep Rai won his round of 32 match against Yu Xing of China 6-4 but got a 0-6 thrashing in the pre-quarterfinals
at the hands of Jin Hyek Oh of Korea, who finished first in qualifying.
Kapil too won his round of 32 match before getting a 0-6 drubbing by sixth-placed-qualifier Xiaoxiang Dai in the pre-quarterfinal round. Jayanta Talukdar did not get past the first round of the day.
Chauhan was the most impressive Indian archer of the day as he beat two higher-ranked qualifiers before eventually losing in the quarter-finals in men's compound individual event. He got the better of Genet Dominique of France in round of 32 and scored an upset victory over Italian Pagni Sergio, who had qualified third, with a narrow 137:136 win.
Chauhan, however, fell in the last eight stage, as he lost 126:129 in a close encounter against Deloche Pierre Julien of France.
Another Indian in the fray in men's compound individual event, Abhishek Verma lost to second-placed qualifier Adam Ravenscroft 134:139.
In the women's compound individual event, Vennam Jyothi Surekha won easily her first match of the day against Ingrid Olofsson of Sweden 136:105, but lost badly to Gerda Roux of South Africa 118:130.
Besides the team events, India still has a chance to win a medal in the Championships as the compound mixed team of Abhishek Verma and Jyothi Surekha Vennam play United States for the bronze medal play-off on Saturday.